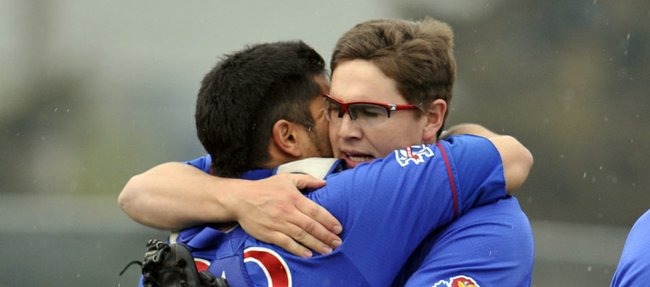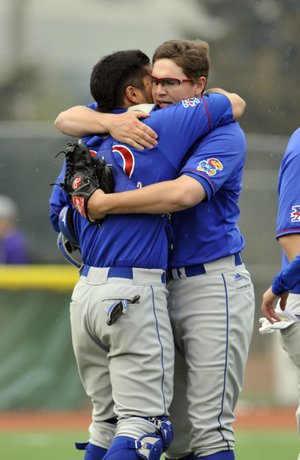 Manhattan — Thanks to strong defense, a couple of timely hits and the stellar right arm of starting pitcher Frank Duncan, Kansas University picked up its first baseball-series victory over Kansas State since 2006 after a 2-1 victory on Sunday at Tointon Stadium.
Duncan, a senior who a couple of years ago actually hosted a recruiting visit for the guy he found himself locked in a pitcher's duel with Sunday, threw a complete game, allowing seven hits, one earned run and one walk while striking out three.
"It was all him today," KU coach Ritch Price said. "He won the baseball game for us. There's no doubt."
Despite the close nature of Sunday's contest, the Jayhawks maintained the upper hand throughout. Senior outfielder Tucker Tharp got the scoring started with a solo home run to left field in the top of the second inning, and the Jayhawks (21-11 overall, 5-4 Big 12) made it 2-0 when Ryan Pidhaichuk's sacrifice fly in the fifth drove in leadoff hitter Justin Protacio, who reached base in all five of his plate appearances.
The Wildcats (18-13, 2-4) answered the KU run with one of their own in the bottom of the fifth and may have tacked on more if not for the cat-like quickness of freshman right fielder Joven Afenir, who corralled two hits to the corner and made big-time throws that prevented the Wildcats from adding on.
Asked if he realized how big the plays were when he made them, the freshman, who was instrumental in helping KU win this series, smiled and nodded.
"Definitely," he said. "A ball down the right-field line, I know they have a chance to get to third or score, so I was just trying to get the ball as soon as I could, turn around and throw it. ... Even the umpire commented on how it might have saved the game."
The Jayhawks nearly broke the game open in the top of the ninth. Aaron Hernandez started with a leadoff base hit. Ka'iana Eldredge followed with a perfectly placed bunt single that started out as a sacrifice attempt. And Protacio reached base on another sacrifice bunt attempt gone really right.
Those three at-bats chased K-State starter Nate Griep from the game after eight innings. But reliever Ethan Landon, who inherited a bases-loaded, no-outs situation, retired the next three Kansas batters to keep the Wildcats within a run heading into the bottom of the ninth.
"We had the bases loaded three times with less than two outs and, usually, you get beat when you don't take care of scoring opportunities like that," Price said.
Added Duncan: "I was definitely cheering a little harder for my hitters there in the last inning."
Instead of getting a cushion to work with, Duncan trotted back to the mound looking for the complete game in a pressure-packed situation. He got it with a 1-2-3 ninth inning capped by his third strikeout of the game.
"We embarrassed ourselves on Friday (in a 10-0 loss), and we embarrassed ourselves last year when we got swept at home, and that was in the minds of everybody," Duncan said.
While snapping the series losing skid against K-State was significant, especially for his five seniors, Price said he was more pleased to see his team respond to Friday's debacle with the kind of heart he had been used to seeing.
"It's a great bounce-back by our club after getting absolutely destroyed Friday night," Price said. "I was really proud of the energy and the resilience we had back in our dugout. That's the way we've played all season."
As for the team's mood on the bus ride home, Afenir provided a hint before boarding.
"Confidence-wise, we're soaring right now," he said.
Kansas 010 010 000 — 2 10 0
Kansas State 000 010 000 — 1 7 2
W – Frank Duncan (3-1), L – Nate Griep (3-1).
2B: Ross Kivett, Tanner DeVinny, Carter Yagi, KSU. HR: Tucker Tharp, KU.
KU highlights: Frank Duncan 9 IP, 7 H, 1 ER 3 K; Tucker Tharp 2-for-3, HR, RBI, run; Justin Protacio 3-for-4, run.
More like this story on KUsports.com