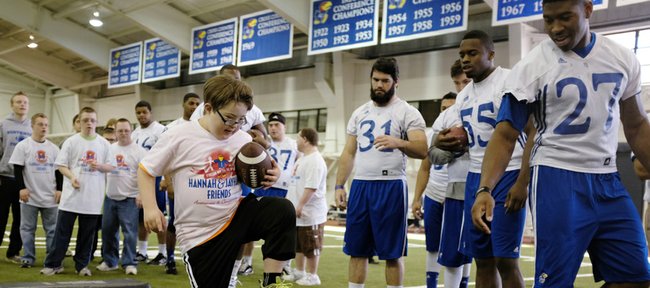 Photo Gallery
Hannah and Friends Football Clinic at KU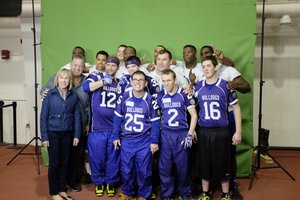 The Kansas football team and coach Charlie Weis, held a Hannah and Friends Football Clinic for children with special needs, Saturday at Anschutz Sports Pavilion.
Photo Gallery
KU football practice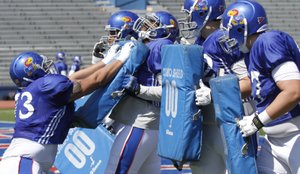 The Kansas football team held practice Saturday, April 5, 2014, at Memorial Stadium.
One day a year, Kansas University football players turn in their shoulder pads and intimidating stares and replace them with clothes worthy of the playground and smiles that can change lives.
That day came Saturday morning, when KU coach Charlie Weis, his players and his coaching staff took part in the annual Hannah & Friends football clinic for people with different abilities.
The hourlong clinic took place in Anschutz Sports Pavilion and featured 10 stations for footwork, passing, blocking, tackling and celebrating and was a non-stop laugh festival, with the soundtrack coming from participants and KU players.
"He told us to come out and have fun," senior wide receiver Nick Harwell said of Weis' instructions. "This was my first time actually doing something like this, and I enjoyed it. There was this one kid who break-danced. That was pretty impressive. He could probably dance better than me."
The clinic would not have been possible if not for the KU student group known as Hannah & Jayhawk Friends, a spinoff organization from the Weis family's not-for-profit charity in South Bend, Ind., that was inspired by Weis' daughter, Hannah.
"It's been really important for us to bring the fun to Lawrence," said Sharon Green, the charity's director of development. "Students have told us, 'Being around people with different abilities has really made us better people.'"
Weis always has made that a goal of his program. Sure X's and O's and academics are important, but so is developing productive citizens.
"This gives us an opportunity to teach our players how to get involved in community service," Weis said.
Saturday's second-annual clinic was a blast for everyone from the first horn.
"Last year they didn't know what to expect," Weis' wife, Maura, said. "And this year they know exactly what to expect. They know how much fun the kids have, and they really want to make their day."
Charlie Weis wasn't sure who benefitted more.
"I don't know who's having more fun, our guys or the participants," he said. "It's almost like our guys are having more fun."
Added senior safety Cassius Sendish: "They're out here to play football just like us. They're having fun. We're having fun. It's all just going together."
Following the clinic, media representatives were invited to watch more than an hour of KU's 12th spring practice. Here are a couple of quick observations from that:
• It looks as if Jake Heaps and Montell Cozart have established themselves as the top two quarterbacks. Both took reps with the first team Saturday, and Heaps was the first to go there.
• Offensive line coach John Reagan looks like a difference-maker. He coaches with a style that is hands-on all the time, and he really emphasizes little details and gives great one-on-one attention to every player in his group.
• The new KU passing game, which was featured during seven-on-seven drills, includes a variety of short, intermediate and deep routes and uses the entire field, sideline to sideline.
• The first-string defense that KU used Saturday featured five defensive backs and included seven seniors and four juniors.
• It may just be spring practice, but it's obvious these guys have been working hard. Many look bigger and leaner, and almost the entire roster gave maximum effort on every drill.
• The Jayhawks will practice again Tuesday and Thursday and will wrap up spring ball with the annual spring game at 1 p.m. Saturday. A day later, Hannah & Friends will host a 5K run dubbed "Finish at the 50," which will wind up in Memorial Stadium. For more information or to enter, log on to www.enter2run.com.