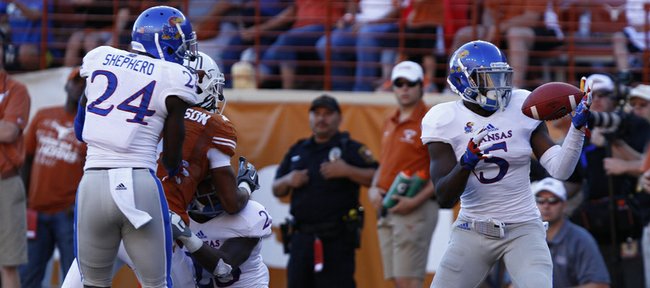 In terms of numbers, Kansas University's football defense took steps forward in several statistical areas during a 3-9 season last fall.
Now the group is gunning for more.
Talking Thursday with members of the media for the final time this spring, several defensive starters revealed the unit's clear goal for 2014.
"Throughout this whole spring, we've just been pushing each other and telling each other that we should have the best defense in the Big 12," said junior safety Isaiah Johnson, the reigning Big 12 defensive newcomer of the year. "(We just have to) keep working hard and keeping doing what we have to do."
It's a bold goal for the program, which has won just six games and given up 40 or more points 16 times during the past three seasons, but that's not dissuading the Jayhawks.
"That has to be our motivation," said senior cornerback JaCorey Shepherd, one of nearly a dozen returning defenders with starting experience. "Knowing that we've got all these veterans and all this talent and speed and everything else, what else could you want? Why wouldn't you want to be the best defense in the Big 12?"
Shepherd, a former wide receiver who is entering his second full season on defense, said not a day goes by when at least a couple of guys on the defense don't bring up the goal. It's not part of their regular breakdown, the way the men's basketball team emphasizes winning the Big 12 each year, and the phrase isn't posted in every locker or inside their helmets. But it is discussed.
"That's what we're pushing for," Shepherd said. "It's understood."
In 2013, the KU defense often played better than the final numbers indicated, but it had a tendency to wear down because of a lack of depth and too much time spent on the field in place of a struggling offense. According to Shepherd and senior safety Cassius Sendish, a couple of small tweaks could go a long way toward the Jayhawks' goal.
"There's always a way to get better and improve," Shepherd said. "Surprise is just another way of showing people that you can do things that they didn't think you were capable of doing. Eliminating some of those big plays and stuff like that is going to surprise people. Maybe getting more three-and-outs, more turnovers, stuff like that. Just being more consistent."
Added Sendish: "I think we just need to continue building like we have been. Instead of going through spurts where we're having stops and then we'll have a breakdown, we just need to continue to hold that momentum and be more consistent. Every point matters. We just want to do our (best) to limit offenses to the bare minimum. You can't lose 0-0."
More like this story on KUsports.com