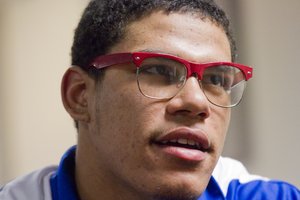 A former four-star defensive end who transferred to Kansas University last year — but left without playing a game after a robbery arrest — was sentenced to three years of probation Friday in Douglas County District Court.
Christopher S. Martin, 22, of Oakland, Calif., struggled to speak as he addressed District Judge Paula Martin, taking responsibility for his role in a May 2013 west Lawrence robbery.
"I want the chance to make it up to the people who believed in me," Martin said. "I'm much better than what I showed. I want to prove that Christopher Martin is a better person."
Martin, who is now enrolled at New Mexico Highlands University, said Friday that he was "deeply sorry for the community," adding that he loved Lawrence and loved being at KU. He called the incident, for which he and three other men were arrested and charged, "one of the worst decisions of my life." Martin's mother and stepfather joined him in court Friday. Upon the conclusion of his hearing, Martin shared a long hug with his mother.
Martin pleaded guilty in February to felony robbery, admitting that he stole cash and marijuana from a 25-year-old KU student during a May 2013 incident in west Lawrence. Three others, including two more former KU football players, were arrested in connection with the incident. Martin transferred to Kansas in 2013 as a four-star defensive end but he did not appear in a game before his arrest.
Former KU football players Christopher A. Omigie and Jeremiah L. Edwards were also arrested, as was Joshua Edwards. Joshua Edwards was sentenced last year to two years of probation and Jeremiah Edwards received three years of probation.
Omigie was sentenced to one year of probation last month after pleading guilty to felony theft. He admitted to serving as the driver in the incident.
Assistant District Attorney James McCabria, who led the prosecution, called Martin "a person with obvious talent and intelligence" but "whose conduct destroyed whatever work" he had put into reaching Kansas.
According to a presentence investigation report, Martin has been diagnosed with severe ADHD and is now seeing a psychologist on a weekly basis.
A 34-month prison sentence can be imposed if Martin violates the terms of his probation.
"Good luck. You can do this, I know you can," Judge Paula Martin said. "I know you have a ton of support."