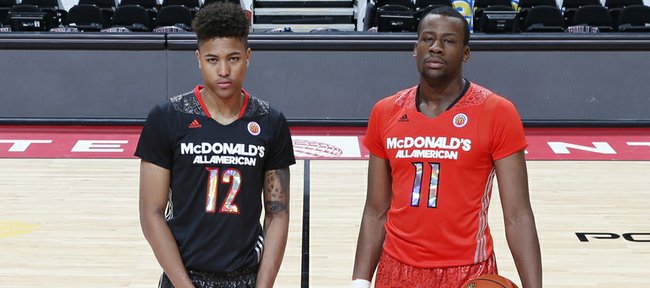 Leftover notes regarding the McDonald's All-American Game Wednesday in Chicago. ...
ESPN's Reggie Rankin proclaimed future KU players Cliff Alexander and Kelly Oubre as "best finishers" of the 24 high schoolers who competed.
"Alexander attacks the rim like no other player in the class," Rankin wrote of the 6-foot-8 power forward from Chicago Curie High, who had nine points and 11 rebounds in the East's 105-102 loss to the West. "With dunks, rebounds, and blocks he's a beast in every sense of the word, and will develop nicely under Bill Self at Kansas.
"Alexander's future teammate in Lawrence plays above the rim on the break and when attacking the rim along the baseline. Oubre dunks with power and authority when he is not hitting a deep jump shot," Rankin wrote of Oubre, 6-7 from Findlay Prep High in Henderson, Nev., who had 11 points and seven boards for the winning West team.
Short turnaround: Oubre scored 17 points and grabbed 14 rebounds in Findlay Prep's 67-59 win over Rainier Beach (Wash.) in a national prep tournament on Thursday in New York.
"Oubre is as good as everybody thought he was. He's a good athlete and big-time player. He hit big shots when his team needed them," Rainier Beach coach Mike Bethea told zagsblog.com after the game.
SLAM Magazine's Leigh Klein on Alexander: "Alexander plays like a man among boys, snatching rebounds like gum balls from a machine."
Failed dunks: Alexander, who played with his bruised right wrist taped, missed a pair of dunks.
"It's cool," Alexander told the Chicago Tribune. "It got better since (Tuesday). It had nothing to do with the missed dunks. I just missed them. No excuses."
A trooper, Alexander agreed to compete in Monday's dunk contest in his hometown despite the fact he said he doesn't like dunk contests. He hurt the wrist in that dunk contest.
Deep dish delightful: Jason Jordan of USA Today asked Alexander to identify the best deep dish pizza in Chicago.
"Giordano's," Alexander replied.
NBAdraft.net's Wes Hinton on Alexander, who is ranked No. 4 nationally by Rivals.com: "Alexander takes no chances within 8-feet of the rim as he dunks everything. He is a physical specimen who brings to mind some Amar'e Stoudemire comparisons and if he can develop some consistent post moves he will be unguardable. On the defensive side of the ball Alexander is a great shot blocker but the amount of shots he alters is amazing. He causes a ton of turnovers based on his presence alone."
SLAM's Klein on NBA scouts in Chicago: "The 'logo' was well represented on the sidelines. Every NBA team had a scout at practice and the scrimmage to see the next in line. The feedback from the scouting community on this year's McDonald's squad has been a positive one. 'The depth of the class is impressive. It may not have the (Andrew) Wiggins and (Jabari) Parker that last year's class had, but top to bottom this one may very well be better,'" an NBA executive told SLAM.
SI.com's Chris Johnson on Alexander: "Though Alexander was limited by a wrist injury, Jayhawk fans got a glimpse of the 6-foot-8 power forward's athleticism and power when he finished an impressive one-hand jam in the second half. Shooting guard Kelly Oubre, the other member of Kansas' 2014 class, exhibited why many believe he can help fill the scoring void left in the wake of Wiggins' departure to the NBA."
More like this story on KUsports.com