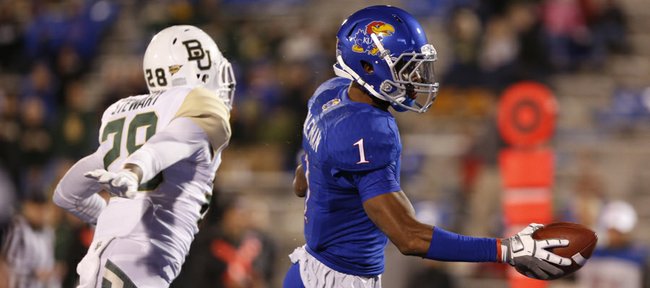 Spring football is the season for blossoming and Rodriguez Coleman's name has popped up so often among coaches and teammates that it's obvious the junior-to-be wide receiver is catching more eyes now than he did footballs last season.
Coleman showed good potential, a nice blend of size (6-foot-3, 195 pounds) and speed (averaged 26 yards per catch), but had just eight receptions and one touchdown in 10 games, including three starts.
Still, his eight catches ranked him second to Tony Pierson among KU wide receivers. He shared the team lead for the position in TD catches with one and shared in a bad habit, sometimes dropping passes.
"Only two drops in the spring, so that's pretty good," Coleman said with a broad smile.
Receivers, Coleman said, are charted for "drops, catches, completion efficiency, explosive plays."
Receptions of 15 yards or longer go down as explosive plays.
"I have a lot of explosive plays," he said. "That's the thing I like best on my chart, my big plays."
Coleman looked to be on the verge of a breakthrough when he had two early catches in the Texas game totaling 85 yards and then suffered an injury early in the third quarter and didn't appear again until the season finale.
First-year KU receivers coach Eric Kiesau said Coleman is "progressing very well. He has a ton of upside. He's very long and lean. He can run. He's been making plays for us. ... We just have to keep him on that upward trend as we go through camp. I'm excited about him. I want to continue to watch him grow and develop."
Coleman has more tangible tools than most receivers Kansas has sent onto the field with fingers crossed in recent seasons. Provided he's not dogged by drops, here's guessing he has a big season and joins Nick Harwell and Pierson as a starter.
Coleman said his new receivers coach has identified the cause of the drops.
"Hand placement," he said and repeated. "Hand placement. I didn't have good hand placement. I was catching the ball inside, instead of extending my hands and my arms and catching the ball outside my perimeter."
Coleman said he also has learned from Kiesau how to improve at the other end of the play.
"(Going against) press coverage, I usually just go off the line and don't make a move," Coleman said. "He's teaching us how to do rips, swims, chops, just to get the defender off of me. We do a lot of (rapid) foot fire, chopping your feet at the line of scrimmage, get the DB thinking you're releasing one way, but you actually release the other way."
Rips, swims and chops are moves used by defensive lineman trying to get blockers' hands off of them.
"Same thing we do when we're trying to get the defender off of us," Coleman said.
Coleman, who wears No. 1 on his jersey, is a talent becoming less raw by the day and having a blast turning into a football player.
More like this story on KUsports.com