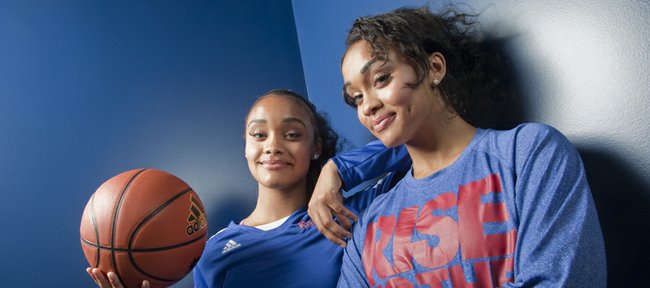 The Gonzalez twins are on the injured list as the Kansas University freshmen prepare for the start of their first season in women's college basketball.
Dylan Gonzalez, a 6-foot freshman from Highland High in Pocatello, Idaho, had hernia surgery on Friday and likely will miss at least a couple weeks of practice, KU coach Bonnie Henrickson said Monday. Dakota Gonzalez, also a 6-footer, has been out after suffering a concussion.
"Dylan won't do anything this weekend," Henrickson said, indicating Dylan Gonzalez will miss Friday's Late Night in the Phog scrimmage. "They say typically within a week you can start on the exercise bike. Dakota ... we're being cautious. We're hoping she can go on Friday. She's able to go halfcourt."
Aside from the physical problems, the twins have fared well in workouts this summer and since school started, Henrickson said.
"They're tough physically. They will compete. And they've shot better," Henrickson said.
Meanwhile, Natalie Knight, a 5-7 junior from Olathe who is coming off ACL surgery, was "cleared to go up and down the court today," Henrickson said. "She's been halfcourt and live halfcourt. She looks good."
Henrickson is ready for today's official start of women's basketball practice in accordance with NCAA rules.
"I like coaching freshman. I always have," Henrickson said. She has five on the roster. "It's fun. It looks different and feels different this year. Obviously the point-guard position, we have to feel our way through (after losing Angel Goodrich). Lamaria (Cole, 5-6 sophomore) has looked good. We're ready to get started."
More like this story on KUsports.com