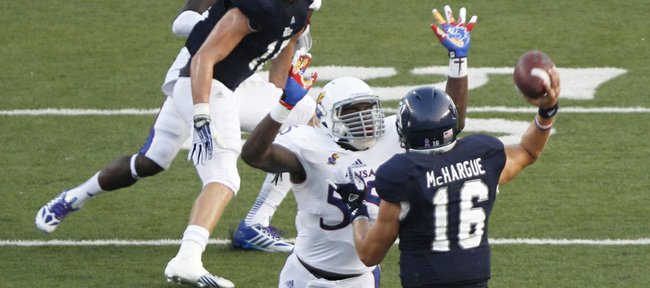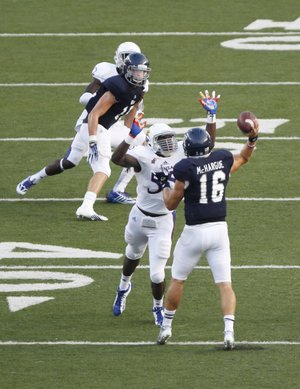 The message was clear and simple to deliver, but how it would be received was unknown.
This offseason, as Kansas University football coach Charlie Weis began preparations for his second season in Lawrence, he met with all of his returning players and talked about what each one could do, both individually and as a teammate, to help aid KU's rebuilding project.
For many, the advice focused on turning it up in the weight room, getting into the playbook more or tightening up the discipline needed to play Div. I football.
For junior-to-be Michael Reynolds, the message was even simpler and came in the form of a two-word nudge: Grow up.
"Yeah," said Reynolds, asked if Weis put it that bluntly. "Yeah, he did. But it's really what I needed to hear."
Since then, the 6-foot-1, 240-pound defensive end from Wichita has looked like a completely different player. Changes in his personal life — Reynolds is a father now — helped bring perspective. But highly publicized upgrades to the KU roster helped bring the sense of urgency that was missing from the gifted pass rusher who too often lacked the focus and accountability, a shortcoming that kept coaches from leaving him on the field for long.
"Mentally, I've matured a lot," said Reynolds, who weighed 210 pounds as a freshman. "I know my responsibilities more and understand the play and the speed of college football and everything like that."
He also understands what's expected of him and deserves some of the credit for figuring it out. Instead of pouting about a lack of playing time or complaining to others about his talents being wasted, Reynolds sought feedback from the places it mattered most — his coaches.
"I had a couple meetings. I even set some up myself just to discuss some things to make sure I was ready to step up and be on the field and make plays to help our team out," said Reynolds, noting that he felt his proactive approach showed coaches and teammates that he no longer lacked drive and determination.
After a solid fall camp landed him on the Jayhawks' two-deep depth chart at the defensive line's hybrid Buck position, Reynolds followed that up with a strong start to the season. His five tackles don't rank anywhere near the top of KU's list — not surprisingly, junior linebacker Ben Heeney leads the way with 32 tackles — but his plays have made a major impact. Reynolds recorded two sacks in KU's loss to Rice and was credited with the forced fumble that saved the Jayhawks against Louisiana Tech a week ago.
"He's grown up," said Weis, asked about Reynolds' early impact. "He's becoming more of a factor for us every week."
According to Reynolds, that's no accident. Already gifted with good speed and quickness, Reynolds spent the summer transforming himself into a more complete player, an effort made easier by the transition to the Buck position.
"I worked on my pass-rushing a ton this summer," he said. "But I also worked on my coverage a lot, since the Buck position is also in coverage now, and I think I progressed in both of those categories."
As his early 2013 statistics indicate, Reynolds said learning from and playing with starting Buck Ben Goodman — at times the two play together on opposite ends of the D-line — has been a blast so far and has allowed both players to play loose and free.
"I feel like it suits me the best," Reynolds said of the linebacker/defensive end hybrid position. "Versatility … you get to pass-rush and also jump in coverage, which gives me the freedom to use my athleticism to make plays."
The more plays he makes, the more snaps he'll play.
"Michael Reynolds has been a pleasant surprise," Weis said. "We have all been waiting for this. He has really turned the corner and started to deliver."
More like this story on KUsports.com