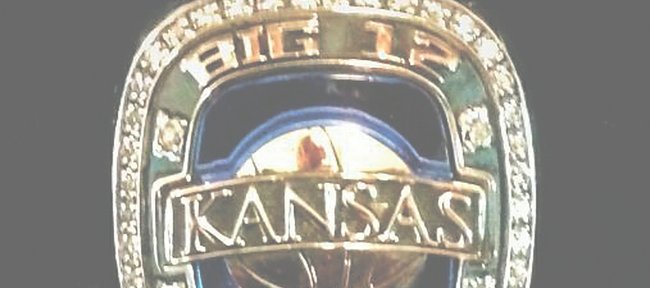 Kansas University's elite, eight-man recruiting Class of 2013 didn't distinguish itself during the first official practice of the season, held Friday afternoon in the Jayhawks' practice facility adjacent to Allen Fieldhouse.
"I am a little disappointed," 11th-year KU coach Bill Self said after a 21⁄2-hour workout, "because I didn't think our young kids were very amped up today. I thought when things started going south and they were involved with the movement going south, I didn't think they did much to change it.
"I thought we showed our age today in practice because I didn't really cut them any slack. I think it was probably an eye-opening experience for them to know, 'Hey, we've got a lot to learn before we can actually play and be comfortable.'"
On this day, the best player in the gym just might have been former KU standout Ben McLemore of the Sacramento Kings, who put on a shooting display while practicing on his own following the practice.
"I just didn't think we played very well," Self said. "Our young kids are talented, but they've got a lot to learn and a long ways to go. Obviously, today I didn't think they responded to the adversity the way a tougher team would respond to it."
Practice normally starts the Friday closest to Oct. 15. The NCAA moved things up three weeks this season.
"I don't think this had the energy that maybe some of the ones in the past had early on because it's happening so soon," Self said. "We got off to kind of a rough start on some pretty simple stuff. Our guys tried hard, but I wasn't very pleased with our concentration."
Self said the Jayhawks would probably take off Thursdays and Sundays and practice the other five days of the week leading to the exhibition opener versus Pittsburg State on Oct. 29.
"We're not ready to play a game in any way, shape or form, including conditioning. I do think we're further along conditioning-wise than any team we've had come Oct. 1," Self said. "I think our conditioning may be fine, but after today's practice, they may rather have Boot Camp."
Self's mood was brightened by the fact last year's rings signifying the Big 12 regular season and postseason titles and Sweet 16 appearance had arrived and were ready to be distributed to the returnees and McLemore.
"We're going to pass out rings in a little bit. Maybe we should go do it in front of our young guys right now because they don't get one," Self said. "That team last year played their tails off to win 31 of 37 games, and to think three of our six losses were games we held at least four-point leads under the four (minute)-time out and just didn't finish. I'm so proud of 'em. Of course, nobody cares about last year's team anymore. All anybody's focused on is this year's team. Certainly that's a team I'll always remember."
Greene gets diversion: KU freshman basketball player Brannen Greene was entered into a one-year diversion program this week after being cited in July for leaving the scene of an accident.
Greene, 18, of Monroe, Ga., was accepted into the program and ordered to pay $560 on Tuesday, three days before a scheduled appearance in Lawrence Municipal Court.
On July 17, Greene was cited by Lawrence police for leaving the scene of an accident and failure to report an accident.
The accident was reported in the early morning hours of July 13 in the 2000 block of Ousdahl Road, where an unoccupied 1997 Mercury Grand Marquis was struck while parked in a driveway. Police said the trunk of the car was significantly damaged. Although witnesses could not immediately identify the vehicle that struck the Mercury, police later determined that it was a 2002 Chevrolet Trailblazer belonging to a Lawrence man and driven by Greene.
KU coach Bill Self on Friday had no comment on the matter.
This, that: Self wore a wrap on his left knee. "I had a little something done. I'm gimping around," said the coach who had knee surgery eight days ago. "I'm close to being 80 percent." ... Self on former KU player Zach Peters being eligible as a transfer at Arizona. "We're fine with Zach. We thought Zach had a future with us, but unfortunately health (five concussions in two years) prevented that. I hope he has a great career at Arizona and is able to help them win a few games, just not at our expense." ... Former UMKC coach Matt Brown was one of the coaches on hand to observe the workout. ... SI.com on Friday rated KU's basketball program No. 1 in the country. KU beat out runner-up Kentucky, No. 3 Duke and Nos. 4 and 5 North Carolina and Michigan State. To read the rankings of current programs go to http://bit.ly/15zdgMz