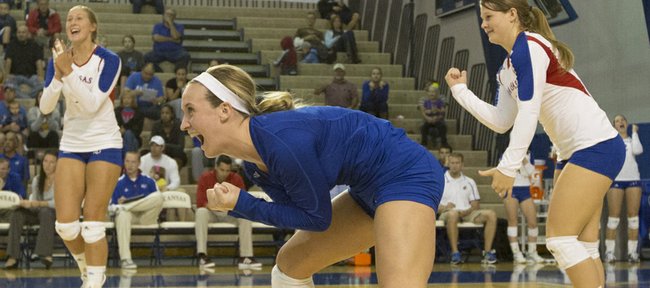 The Big 12 volleyball schedule-maker finally did Kansas University a favor this season.
"This is the first time we've played at home in a while to open the Big 12. We did it in fine fashion," 16th-year KU coach Ray Bechard said after a 3-0 sweep of TCU on Saturday in Horejsi Center. "It's so encouraging to see the energy in Horejsi and response to our team, how hard they are playing," Bechard added of fans' reaction to his 11-3 Jayhawks, who have won seven matches in a row heading into Wednesday's contest at Kansas State.
A near-sellout crowd of 1,081 brought its usual A-game to a volleyball facility that last hosted KU's Big 12 Conference opener in 2007. KU, believe it or not, had started on the road the past five seasons, losing four of five matches.
"We love playing at home. I feel this was a great win for us starting the Big 12, and there should be many more to come," KU sophomore Tiana Dockery said after smashing 14 kills against an 11-5 Horned Frogs team that was playing its second league match. TCU fell to defending national champion Texas, 3-0, on Wednesday in Fort Worth.
The Jayhawks, who rolled, 25-19, 25-13, 25-22, were near perfect in the second set.
KU pounded 14 kills without an error for a .667 mark, besting their previous season-high of .650 set against Creighton on Sept. 10 in Omaha. Senior Caroline Jarmoc, who had 10 kills, went 5-for-5 in the set.
"Once we get on a roll, you can't really stop us," Jarmoc said. "Erin (McNorton, 38 assists) was distributing the ball nicely and we were driving aggressively and putting it away."
Chelsea Albers and Sara McClinton had 11 and nine kills respectively; Brianne Riley and Jaime Mathieu 14 digs apiece. Jarmoc, 6-2 from Calgary, Alberta, had eight blocks, upping her career block total to 483. She's second all-time to Amanda Reves, who totaled 514 blocks from 1996 to '99. She also had a solo rejection and passed Josi Limi for second in solo blocks at KU (90, 2002-05). Julie Ester is all-time leader with 136 from 1983-86.
"I felt if I wasn't terminating, I was getting a lot of touches," said Jarmoc, who helped hold TCU, the No. 1 attack-percentage team in the league (.260), to a .138 hitting percentage.
"Our goal was to hold them under .200, so that's a good number," said Bechard, whose team hit .369.
"The environment was very loud, energetic," said Dockery, a sophomore from Richmond, Texas who had just one error to go with her 14 kills. "Our team was relaxed."
The Jayhawks have won 12 of their last 13 sets in victories over TCU, Notre Dame, Georgia and North Dakota State.
"We've got K-State, a top-25 team (Wednesday in Manhattan), go to Baylor (Saturday), who beat us there last year. Follow that up with Oklahoma and Texas (home matches Oct. 9 and 12), who won a national championship. We'll have their attention," Bechard said of his Jayhawks.
"We go one match at a time. It's kind of our mantra," Jarmoc said. "Each match is the most important of the year. TCU is today. We move on to K-State Wednesday. I feel everyone is happy to be in a routine now," she added of the Big 12 schedule. "Preseason tournaments ... you play at odd times. The Wednesday/Saturday schedule, the girls are used to it. It feels nice."
More like this story on KUsports.com