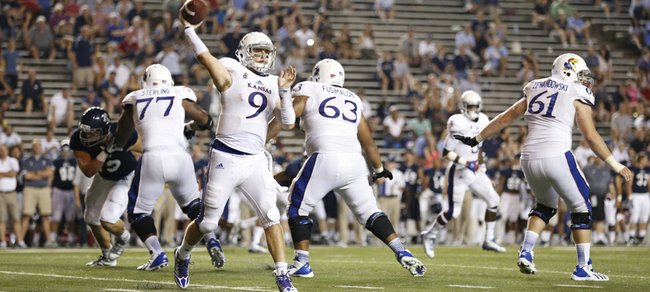 Through three games, the Kansas University offense has flashed its share of the up-tempo offense that has become as common in the Big 12 as games played in Texas.
The idea for KU to incorporate a faster pace into its offensive flow came during the offseason, when head coach Charlie Weis, linebackers coach Clint Bowen and associate head coach in charge of defense Dave Campo first put their heads together to try to figure out a way for KU's defense to keep up with the rest of the Big 12.
What they decided on was to have two offensive units ready to roll at all times during certain portions of practice. One would run the play that was called against KU's defense and the other would wait on the sideline, ready to rush to the line of scrimmage as soon as the previous play had ended. What resulted was a fire drill of sorts, that sent the two offenses running around like mad men and the defense battling to keep up.
"Twelve seconds or less," Weis said, when asked how quickly the KU offenses were snapping the ball during the drill. "I'd say that's faster than most all of the teams (in the Big 12). Twelve seconds was the latest. There were times we snapped it in eight, snapped it in 10. We almost couldn't snap it in time for the guys to get off (the field) so the conditioning was really for the offensive players running off the field after every play. When we first started doing it was kind of comical to watch to be honest with you."
As time went on, the KU defense became more comfortable facing the faster tempo. That does not mean KU's defensive players always found a way to stop the plays that were run against them, but they did get to the point where they felt more at ease facing such chaos.
"It's similar to a baseball batter," linebacker Jake Love said. "All season he's seeing 80 mph fastballs and then he sees a 90 or 100 mph fastball and he's like, 'Oh, crap.' Us being able to see (offenses) at a faster pace in practice helps everything slow down when we get into the games."
None of KU's first three opponents ran the kind of up-tempo style the 2-1 Jayhawks will see when they face the likes of Baylor, Oklahoma State and Texas Tech during the next nine weeks, but there were times, particularly against Rice and Louisiana Tech, when KU's defense was tested. In the loss at Rice, the Owls ran 78 plays. Last week, Louisiana Tech ran 87 plays.
So far, the Jayhawks' offense has averaged 71 plays a game, but has employed the no-huddle look from time to time. In the opener, a 31-14 victory against South Dakota, KU had a stretch in which it snapped the ball at an average of 14-15 seconds. That's easily as fast as any of the Big 12 offenses and, according to Weis, a result of the offense preparing the defense for faster speeds in practice.
"We've been working on this quite some time," Weis said earlier this season. "And that was part of my thought methodology back in November and December, when I was thinking about trying to get our defense better. If we're going to practice it, let's do it ourselves. I'm an offensive guy. You think I want them doing all that work and not getting anything out of it for the offense?"
For a team that features an almost entirely new offensive line, a new quarterback and a new batch of wide receivers, three games is hardly enough time to make a definitive call on whether the offense is effective or not. But one thing is certain: KU must score more points on a more consistent basis if it hopes to compete in the conference this season. The Jayhawks are averaging just 19.3 points per game, the second lowest mark in the Big 12. Only 2-2 West Virginia averages fewer, at 18 points per outing, and six of the league's 10 teams have averaged 32 points per game or more. Weis knows that and you can bet he will be emphasizing it this week as the Jayhawks go through their second and final bye of the season.
"We were much more productive in the pass game (against Louisiana Tech)," Weis said Monday morning. "But now we have to be able to tie the run game and the pass game together. We're still not scoring enough points to win, and that's where we have to make our drastic improvement."
More like this story on KUsports.com