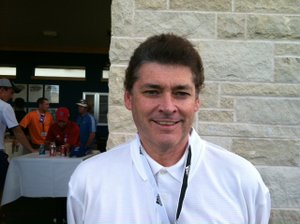 Every time former Kansas University golf coach Ross Randall's phone dinged with a text alert, he hoped it contained good health news about Jim Phillips, one of his early golfers.
Randall no longer needs to check his phone for an update on Phillips, who was among those in town over the weekend for a KU golf alumni get-together, at which plans were rolled out for an expansion of the program's hitting-bays facility at Alvamar.
Wegener's granulomatosis is a rare disease that causes inflammation of blood vessels that restricts blood flow to various organs, in Phillips' case his lungs. It landed Phillips, 50, in a coma for five weeks. For another five weeks after awakening from the induced state, Phillips, a born conversationalist, could speak only by pointing a laser clipped onto his head to a board containing all the letters of the alphabet.
"It took him 30 minutes to tell me he had a headache," friend Troy Suddarth said.
The days of being on a full ventilator, full tracheotomy, intense chemotherapy and a long stay in the intensive-care unit behind him, Phillips was able to look back on his ordeal as he mingled with old friends.
"It's weird being in a coma," he said. "You're kind of aware when you're in a coma of what's going around you, and you dream about it like it's not real. It's really bizarre."
Randall was curious to see if Phillips' steel-trap mind — a sports fact gets in there, it never escapes — had been changed by his long stay in a subconscious state. Clearly, the answer was no.
Phillips reeled off particulars of Randall's All-American career and specifics of former KU golfer Gary Woodland's two Q-school success stories. Phillips was there walking the course every time Woodland had a Q-school round in Dallas.
"Did you know that Ross was nicknamed Stick Man when he was on tour, and he was about 6-2, 160?" Phillips asked. "He was the NCAA runner-up to Hale Irwin (in 1967). You know there are a lot of people who think Ross is the greatest bunker player ever."
Phillips then talked about the connection between KU golf and the Harmon family. Craig Harmon, long-time pro at the site of this year's PGA, Oak Hill in Rochester, N.Y., was Randall's roommate at San Jose State. Randall worked at Winged Foot for Claude Harmon Sr., Craig's father, who helped him refine his game. Claude Harmon III, son of famed instructor Butch Harmon (Craig's brother, Claude Sr.'s son), instructs Woodland, Randall's greatest all-time player.
Randall always enjoys seeing Woodland and any of the Harmons, but he never enjoyed seeing one of his players as much as seeing Jim Phillips this past weekend, standing tall thanks to the wonders of his modern medicine.