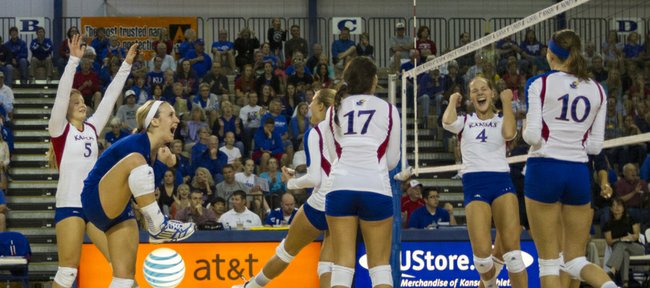 Kansas University's veteran volleyball players, who led the Jayhawks to a 26-7 record and spot in the NCAA Tournament last year, were not happy with a so-so 4-3 start to a much-anticipated 2013 season.
"As seniors, we got together and talked a little bit about how even at the beginning, when things weren't going as planned, how everybody still had faith in each other," KU senior setter Erin McNorton said after the Jayhawks' 3-1 rout of Notre Dame on Sunday in Horejsi Center.
The victory, KU's sixth in a row, ran the Jayhawks' record to 10-3 entering Saturday's conference opener against TCU (1 p.m., Horejsi).
"I think the way we finished preseason compared to how we started is so much better," added McNorton, who was named MVP of the weekend's Kansas Invitational after totaling 130 assists, and a 13.0 average, for a KU team that hit .364 in three-set victories over North Dakota State and Georgia and a four-setter over Notre Dame (6-5).
"We have a great connection," McNorton said of a senior class that includes Caroline Jarmoc (15 kills versus Notre Dame), Brianne Riley (16 digs) and Jaime Mathieu (five digs). Jarmoc was named to the all-tournament team with McNorton and junior Sara McClinton (14 kills).
"A big thing, when we are in tight games, we can look at each other. We've all been there before. We all know how to react in those. I think it's good for underclassmen who aren't used to those situations to kind of feed off of us and feel the calmness," McNorton added. "I think that's a big part in how well we are doing and able to finish these close games."
On Sunday, KU won the first set, 25-22, fell 25-19, then rolled 25-20, 25-16 against a team that beat the Jayhawks and also reached the NCAAs a year ago.
"We talked in the locker room (after second-set intermission). It was a pretty pointed discussion about who is playing harder right now, us or them?" KU coach Ray Bechard said. "We took a look in the mirror, talked about what we've done all the way from two-a-days up to this point and how we wanted to end our preconference schedule. We made the decision there that, 'We put a lot of time and effort in, let's go out and execute.'"
KU rolled the final two sets to the delight of a sellout crowd of 1,250.
"The beginning was a little bit rough. The fourth set we came out and made a statement, which was something we wanted to do," said Jarmoc, whose five blocks give her 475 for her career, second in school history to Amanda Reves (514 from 1996-99). "We didn't just want to play to beat them. We wanted to play to our level of volleyball."
KU will tune up for the TCU match by playing an exhibition against Italy's Under 23 national team at 6:30 p.m. Wednesday in Horejsi. As far as the coach's grade for his team during the non-con campaign?
"I would say out of 10, we're probably at a 7," Bechard said. "You have to look at the whole body of work. We've won six in a row. I think it went from a 51⁄2 or 6 up to a 7, maybe. It's climbing. We still have a lot of work to do."