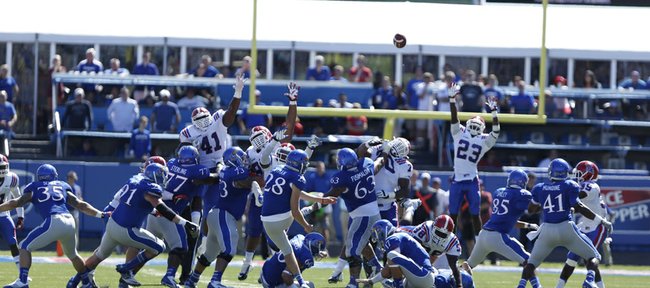 Photo Gallery
KU football v. Louisiana Tech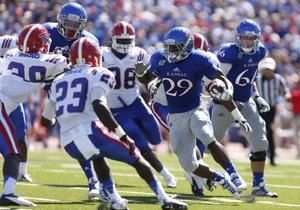 Images from Saturday's game against Louisiana Tech at Memorial Stadium.
Podcast episode
Kansas football coach Charlie Weis talks after 13-10 win over LA Tech on Sept. 21, 2013.
Box score
With a diamond earring drilled into each lobe, Matthew Wyman looked a little bit like a rock star Saturday afternoon when he sat in the room where post-game interviews happen. Earlier, you could tell he wasn't because even rock stars don't trigger quite as wild a response as he did from teammates in the center of the Memorial Stadium field and again in the locker room.
"I've always wanted to be famous," Wyman said. "I guess I'm a little famous."
I guess he is. Russell Hammond was almost famous. Matthew Wyman is famous. His rapid journey has taken him from the most anonymous player at the beginning of training camp to, well, famous. This from a former soccer player whose high school football career in Michigan spanned all of four games and included just one field-goal attempt. It was blocked. Saturday's had a decidedly different result.
In a game that had been dominated by the left foot of one punter, the right of another, Wyman's right foot took the spotlight when he booted a 52-yard field goal as time expired, lifting Kansas University to a 13-10 victory against visiting Louisiana Tech.
A year ago, when Kansas had as feeble a kicking game as just about anybody in college football, Wyman had to pay for admission to games. The first one he attended, he said, was the second of the year, against Rice.
"I was sitting about two-thirds of the way up and I remember saying, 'Man, I can do that.' I was (sore, as if he had kicked himself backward), I guess I would say, at the beginning of the season."
Wyman's first attempt at walking onto KU's football team failed. He made the team last spring and during a strong summer steadily climbed from fourth on the depth chart to first as the team's field-goal kicker.
Wyman entered the game 1-for-2 in attempts, making a 45-yarder and missing from a similar distance.
When Wyman missed wide right from 28 yards midway through the second quarter Saturday with KU trailing, 7-0, the Wyman story had the feel of another experiment gone awry from a football program with a history of backfires.
Wyman took a seat on the bench and "drilled myself for a little while." That was when, according to Wyman, reserve safety/prophet Deron Dangerfield voiced a message he would repeat a couple of quarters later: "You better be ready. It's coming down to you. The game's coming down to you."
Wyman made his next attempt, from 39 yards in the second quarter to KU within 7-3 at the half.
Wyman said with 10 minutes left in the game Dangerfield again had words of encouragement: "He said, 'The game's coming down to you. Start preparing.' So I started preparing."
Which entails?
"I visualize a lot," Wyman said. "My dad has always told me to visualize. I do that before I kick. I picture it going through the uprights. That's about it."
He said he kicked into the net twice before heading onto the field. Louisiana Tech coach Skip Holtz tried to ice the novice by calling timeout. To Wyman's grandparents, who had made the trip from Oxford, Mich., it must have seemed like the longest timeout in history.
"I was thinking, 'I do this in practice every day. I can do this.' You've got to be confident to be a kicker," Wyman said. "That's what was going through my mind: 'I'm going to make this kick. I'm going to drill it.' I always talk myself up before I go up there."
He said these words also popped into his head: "Just because people are watching doesn't mean I won't make it."
He said he knew he hit it well. Is it true what they say about time slowing down when the ball is in the air, the game on the line?
"Yes," Wyman said. "It definitely does."
His first thought after he struck the football: "Please go in. I saw it going to the right and then it kind of curved back in."
He said he thought Andrew Turzilli was the first to reach him as the kicker's arms were spread, his fists balled, his mouth screaming, "Yeah, let's go!"
Somebody, he couldn't remember who, picked him up and placed him down and that's when Wyman fell onto the ground and soon found himself at the bottom of a dog pile.
"For a second my leg got caught, but I got it out," Wyman said. "I was actually worried that I was going to get hurt. … They finally got off of me, I ran over to the student section and they gave me a warm welcome."
A rock star's welcome from a guy who was one of them a year ago, wearing a blue T-shirt with the rest of them.
"It's weird knowing that I was up in the student section, cheering, saying, 'I know I can do this.' And now I'm here in front of all these cameras," he said. "It's a lot to take in. It's been a short period of time."
It's some story is what it is.
"It's cool coming from the bottom of the depth chart to the starting field-goal kicker," he said. "I guess it doesn't happen often. It's cool that it's my story, not someone else's."