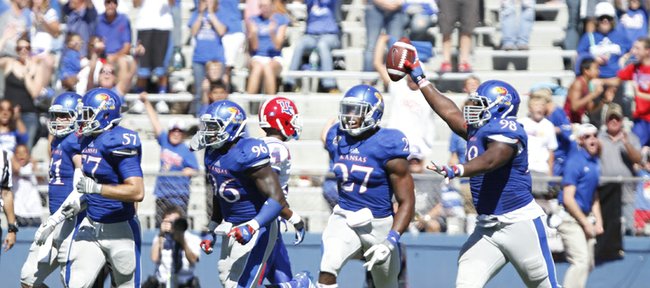 Photo Gallery
KU football v. Louisiana Tech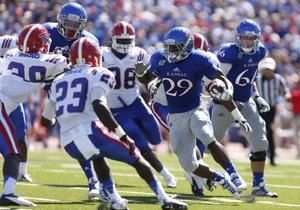 Images from Saturday's game against Louisiana Tech at Memorial Stadium.
Podcast episode
Kansas football coach Charlie Weis talks after 13-10 win over LA Tech on Sept. 21, 2013.
Box score
The unthinkable happened as Louisiana Tech sophomore running back Kenneth Dixon carried the football to Kansas University's five-yard line with a minute-and-a-half left and the score knotted at 10 on Saturday at Memorial Stadium.
The ball was knocked loose by KU's Michael Reynolds and covered by KU's Keon Stowers, squashing the Bulldogs' hopes of a last-second, game-winning touchdown or field goal.
"Kenneth ... he's got his head in a towel. He's crying his eyes out. Nobody feels worse than he does," Louisiana Tech coach Skip Holtz said after the Jayhawks quickly marched 60 yards in eight plays and pulled out a 13-10 victory over the visitors from Conference USA, thanks to 52-yard field goal by Matthew Wyman at :00.
"I told him, 'I love the effort and the energy and the way you run and way you make people tackle you, but in a situation like that, we've got (to have) two hands on the ball. We've got to protect it.'
"Holy cow, it was not just Kenneth. We had about eight guys who had the opportunity (to recover it)," Holtz added. "It kept spitting out. It looked like we had four different guys jump on it. It would spit out, jump on it, would spit out. We just couldn't get our handle on it."
Dixon, who rushed for 129 yards off 18 carries, committed one of two back-breaking fourth-quarter fumbles by two of the Bulldogs' top three stat producers.
Freshman quarterback Ryan Higgins, who completed 35 of 55 passes for 289 yards, a touchdown and interception, ran from KU's 29-yard line to the two with 12:43 left and Tech up, 10-3.
Instead of settling for a key first down, Higgins completed the scamper by fumbling out of the end zone. KU was credited with a touchback. The play was reviewed several times as it looked as if Higgins might have stepped out of bounds before fumbling.
"I did," Higgins said, asked if he thought he stepped out, which would have come before the fumble. "I was trying to make a play. It slipped out of my hands. It was a poor play on my part. I tried to pull it in, just ...
"It was really tough. I tried to make a play, tried to do a little too much. It hurt the team. I'm going to fix everything I can on film and get better."
Holtz said he again appreciated the QB's effort, but ...
"I told Ryan I was proud of the way he competed," Holtz said. "What I said, as a quarterback stepping in as a freshman, 'I'm not asking you to make the great play. I'm asking you to make the routine play. Put the ball on the outside line and protect it.'
"It's unfortunate we had to lose a game to learn (from) a mistake like that. He's a competitor. He got on the field running. He saw the goal line. He was trying to get it in. It just wasn't a very smart play. That ball was way too important to do that. I was proud of the way Kenneth Dixon and Ryan Higgins competed. It's just unfortunate they played such a great game they were two of the ones who made the mistakes in the red zone going in."
The two key fumbles took away from the fact Louisiana Tech outgained KU, 443 yards to 396. D.J. Banks had 13 catches for 82 yards.
"Their punter and kicker were the difference in the game," Holtz said. "He (Wyman) makes a 52 (yarder and 39 yarder). We missed two inside of that. He (Trevor Pardula) averaged about 57 yards a punt (57.6). You start talking about 57 to 39 (average by Bulldogs' Logan McPherson) ... you are talking about 20 yards of field position that's flipping every time you have to punt the ball.
"It was a hard-fought game. I applaud Kansas for hanging in there the way they competed. They were able to get it done at the end. We weren't able to get it finished."
Louisiana Tech, which has beaten Lamar (27-14) and lost to North Carolina State (40-14), Tulane (24-15) and KU, will play host to Army on Saturday.