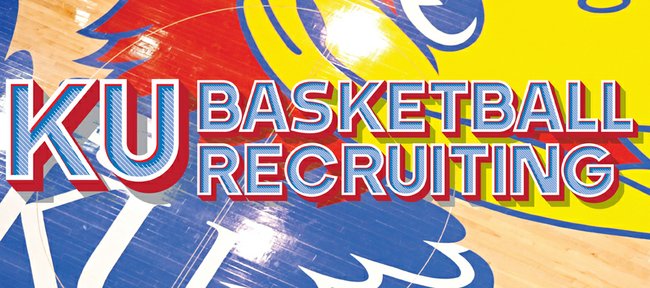 It appears to be a Kansas University-Kentucky recruiting battle for Kelly Oubre, a 6-foot-7, 200-pound senior shooting guard from Findlay Prep High in Henderson, Nev.
"I think it's fair to say that (KU and UK) are the front-runners in the process right now," Oubre's dad, Kelly Oubre Sr., told Cats Illustrated.com, which is Kentucky's Rivals.com website.
"That still could change, but right now that's where we are at. Part of the reason that we haven't done a ton of visits is because he feels strongly about those two. For a lack of a better word, they're front-runners. I wouldn't say either one is in front of the other, it's pretty much neck and neck," Oubre Sr., added.
Oubre, who is ranked No. 12 nationally in the Class of 2014 by Rivals.com, averaged 23 points and 11 rebounds last season for Bush High School in Fort Bend, Texas. He also has Florida, Georgetown, Louisville, Oregon, UConn and UNLV on his list.
Oubre will attend KU's Late Night in the Phog on Oct. 4 and Kentucky's Big Blue Madness on Oct. 18. He has yet to set up any other visits.
Rivalries squashed: KU, it has been well documented, has no plans of scheduling Missouri in football or basketball because of the Tigers' decision to leave the Big 12 for the SEC.
It seems Duke has similar plans of avoiding Maryland, because of the Terps' decision to leave the ACC for the Big Ten. Duke hoops coach Mike Krzyzewski told Washington D.C. radio station ESPN 980 that the only way his team will ever play Maryland again is in the ACC/Big 10 Challenge. Krzyzewski said Duke typically likes to schedule nonconference games against teams out of its conference area.
"I have a great deal of respect for Maryland," Krzyzewski said as quoted by the Sporting News after last year's regular-season game at Maryland. "If it was such a rivalry, they'd still be in the ACC. Obviously they don't think it's that important, or they wouldn't be in the Big Ten."
Anderson recovering: Former KU signee Braeden Anderson, who transferred to Fresno State in the fall of 2011 after being declared ineligible for financial aid at KU by the Big 12, has been providing updates on his physical condition on his Facebook account. Anderson suffered a serious neck injury after he and Fresno State walk-on Kyle Jackson were in a four-vehicle crash on Sept. 3 in Fresno.
Anderson, who averaged 4.1 points and 3.5 boards in 10 games after becoming eligible for Fresno last season, will miss the 2013-14 season but is expected to make a full recovery.
He was a passenger in one of the vehicles. Jackson was not injured seriously.
"I have so many amazing people in my life. Right now I will admit it's hard, but your prayers and love keep me strong. I have lost about 30lbs, but I will come back even stronger! The comeback.(AGAIN)," Anderson wrote on Facebook on Tuesday.
On Monday, he wrote: "Admittedly I am in a lot of pain. In fact, before this incident I will admit that I had no idea how large the scale of pain actually was. I would not have thought it possible to endure so much pain without death. Of course people tell me how lucky I am to be alive, and to be in a group supported by less that 1% of people who survive this type of injury, but it's also too soon to celebrate. The pain continues... But as I feel pain... I feel alive... I feel the will to live... And live well. I have always been a fighter, and I surely didn't need something like this to prove I was... But if there was any question in anyone's mind before... Take heed. I'm a survivor."