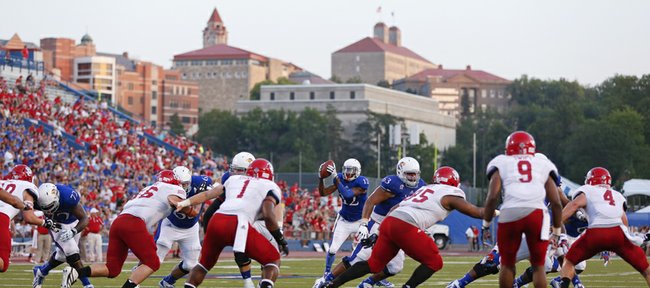 WR Matthews still in the mix
After a solid offseason that encouraged Kansas University football coach Charlie Weis to call him by far the Jayhawks' best wide receiver, senior Christian Matthews has fallen off the depth chart.
That's not to say, however, that Matthews is not still in the mix. Although the senior, who also has been used as the team's Wildcat quarterback, does not have a reception, Weis said he's far from a forgotten man.
"He's right in that top five," said Weis, grouping Matthews with starters Rodriguez Coleman and Tre' Parmalee and second-stringers Justin McCay and Josh Ford. "He's involved in some packages. He's much more comfortable in the slot than he is outside. That's his niche. The only problem most of the time in the slot is Tony and Tony's just significantly faster than him. He's right in the mix. He's not been exiled. He's right there."
Matthews, of course, also figures to remain a part of the offense as the team's Wildcat quarterback. During the Week 1 victory against South Dakota, Matthews ran four times for six yards out of the set but did not catch a pass. Last week, in a 23-14 loss at Rice, Matthews did not run the Wildcat or catch a pass.
Podcast episode
KUsports.com football beat writer Matt Tait and Journal-World sports editor Tom Keegan examine just how big Saturday's game against Louisiana Tech is for the 1-1 Jayhawks, who are coming off a tough road loss to Rice.
Smiley gets his shot
Thanks in large part to junior Jimmay Mundine's troubles catching the football, fellow-junior Trent Smiley has been elevated to first string at tight end.
Weis said it did not take a genius to figure out why he made the move on the depth chart and added that Mundine remained in KU's gameplan.
"Jimmay's not eighth team here now," Weis said. "There will be packages where he's on the field. But, you have to go with what you see and I see the same things you see. But, I see them a lot worse than you do. As bad as you see them I see them a lot worse than that because I'm watching each and every player, studying on tape every single player on every single play. I think right now we need to give Trent an opportunity to see if we can get any better there."
Asked if what Smiley — known mostly as a blocking tight end — brought to the position that Mundine may not, Weis pointed to the 6-4, 245-pounder's ability to mix it up.
"He's more physical," Weis said, noting that adding toughness was one of the themes of the week. "Jimmay is much more athletic than Trent. Trent's more physical than Jimmay."
LA Tech game huge
Despite last week's tough loss to Rice, KU linebacker Ben Heeney said it would be the wrong move to count the Jayhawks out. On top of that, Heeney made no secret of the fact that Saturday's 11 a.m. kickoff against Louisiana Tech had become the biggest game on KU's schedule.
"Yeah," he said. "It's our next game. I've been reading a bunch of stuff. People just, you know how it is. But I'm not worried about it. Our team's fine. We're gonna be fine."
Heeney said he's been told by a few people throughout the years that he should not spend time reading too much of the feedback about the teams for which he plays, but the junior said he's always been interested to see and hear what's being said.
"Just because I'm curious, man," he said. "I'm curious to see what the fans are talking about. And it's motivating. Some of it's encouraging, some of it's, what?"
Jayhawks favored
For the second time this season, the Jayhawks (1-1) will take the field as the favorites, according to oddsmakers.
KU, which plays host to Louisiana Tech (1-2) at 11 a.m. Saturday, opened the week as a nine-point favorite over the Bulldogs. Since then, the line has climbed to as high as KU -11 in some spots, which reflects that many believe the Jayhawks should win this weekend at Memorial Stadium.