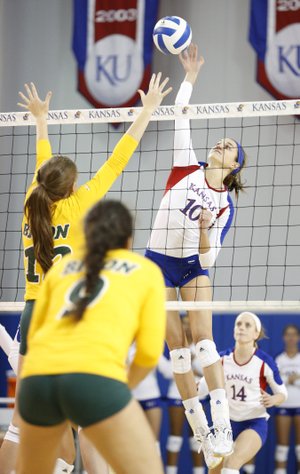 Tiana Dockery's birthday weekend is off to a rousing start.
"She's going to celebrate," Kansas University volleyball coach Ray Bechard said of the 5-foot-10 sophomore outside hitter from Richmond, Texas, who had a team co-leading 14 kills in a pair of 3-0 victories over Georgia and North Dakota State on Friday in a festive Horejsi Center.
"I told her, 'Why don't we celebrate for a couple months if you're going to play like that?' She's been lights-out today. I think that's as well as she played back-to-back matches since she's been here."
Dockery acknowledged it was nice to play well a day after turning 20.
"Last year, we played Creighton on my birthday, and we won. It was good to win both of these games today," Dockery said. "My mom and my grandma came down. My grandma has never been here. She's from New Mexico. It's good to see her.
"She's excited because it's like her watching my mom when she played in college. Now she gets to watch me," added Dockery, whose parents, Treena and Gerald, were athletes at Eastern New Mexico University.
Dockery and Sara McClinton had 14 kills apiece in the Jayhawks' 25-17, 25-23, 25-18 win over Georgia (8-2). Dockery and Chelsea Albers had 14 kills in KU's 25-18, 25-14, 25-18 win over N.D. State (0-10). Brianne Riley had 11 digs versus Georgia and 14 vs. N.D. State. Erin McNorton had 42 assists against North Dakota State and 38 vs. Georgia.
"I thought we did really great talking and moving on the court," Dockery said. "We felt really calm. We played together. This is how Kansas volleyball is supposed to play, so I thought it was awesome."
"Defensively we notched it up a bit," Bechard said. "Our serving was good, passing pretty good. When you play at a high level in all areas, you are going to have a good result."
The Jayhawks (9-3), who have won five straight matches, will play Notre Dame at 1 p.m. Sunday in Horejsi Center.