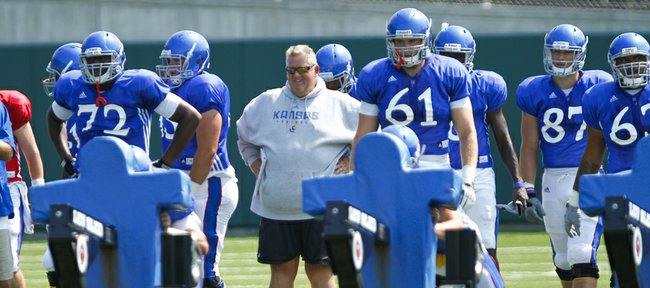 With a couple of changes affecting KU's offensive line this week, it's logical to wonder if putting senior Riley Spencer into the starting lineup and opening up the competition between Pat Lewandowski and Dylan Admire at center will have an impact on the chemistry up front.
Senior left tackle Aslam Sterling, the only lineman who KU coach Charlie Weis said looked decent in last week's loss at Rice, does not think the changes spell trouble.
"I don't think it's gonna be starting all over," Sterling said. "Because, as a group, we're all really close and are able to communicate with each other. We just have to be more physical and assignment-sound when we're out there."
Furthermore, the new faces up front don't figure to change the way things flow for the rest of the offense.
"It won't be a factor," said running backs coach Reggie Mitchell. "Because all those guys who are getting plugged in, they've been in practice, they've been in the rotation. It won't be that big of a deal for the running backs."
Time to hit
Weis did not hide his disappointment about his team's struggle to slug it out with Rice last week, and many of the changes he made this week were with done with the idea of getting more toughness onto the field.
"You only have two choices," said Weis when asked about KU's lack of physicality. "Guys get better or you tweak them and make a couple moves."
The depth chart changes have been well documented, but Sterling said Weis made other moves to help breed a more physical football team.
"Last week, we practiced pads on Tuesday and no pads on Wednesday," Sterling said. "And this week, we're gonna be in pads two days, so it's gonna be two physical days."
Hand him the ball
So far this season, junior running back Tony Pierson has carried the ball just six times for 50 yards. With KU's offense struggling and Pierson transitioning to more of a wide receiver role, the team has not forgotten about Pierson's abilities as a ball carrier.
"I think the plan is to give as many touches as he can get and some of that is gonna come out of the backfield," Mitchell said. "We ran the one sweep with him (vs. Rice) and that didn't work, but we do plan on getting him more carries."
Would KU like to keep the 5-foot-10, 175-pound Pierson out of the trenches and, therefore, out of harm's way?
"Yeah, you would," Mitchell said. "The best way to utilize his talents is to get him on the edge, but we do have some things designed with him running inside."
Home-and-home vs. UH
KU announced on Wednesday a future home-and-home non-conference football series with Houston. The Jayhawks will play at Houston in 2019 and Houston will come to Lawrence in 2020. KU coach Charlie Weis said the series gives KU another chance to get into key territory.
"The state of Texas is an extremely important area for our program in terms of recruiting," Weis said. "In addition, we have a large alumni base in the Houston area, so being able to play Houston is ideal for both the team and our fans."