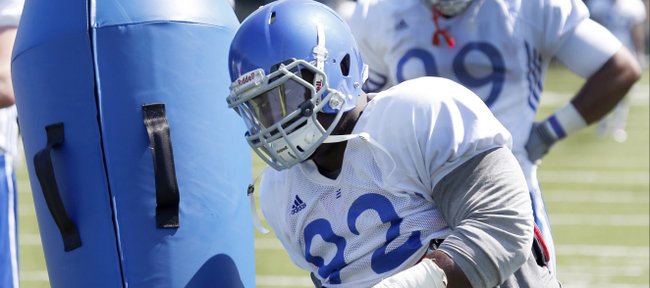 Podcast episode
Kansas coach Charlie Weis talks to reporters on Sept. 17, 2013, four days before his team's game against Louisiana Tech.
The mystery has been solved. The future is clear. Barring something unforeseen happening during the next handful of weeks, junior-college transfer Marquel Combs will red-shirt the 2013 season.
That outcome is far from what most expected from the defensive tackle from Pierce College in California who was ranked by ESPN.com as the top juco prospect in the Class of 2013. But Kansas coach Charlie Weis always has been big on the five-word philosophy he learned from his mentors: Go by what you see.
So far this season, Weis has seen Combs as a player who needed time to absorb KU's system and make the adjustment to Division I football. In addition, there are players at his position who have played better than Combs week in and week out. That's why Combs missed the season opener against South Dakota and did not even travel to Rice last week. And that's why he'll spend the rest of the season honing his skills as a member of KU's scout team.
"Everyone gets sent to the same place," Weis said during his meeting with the media Tuesday. "There's no prima donnas here. They all have to go to purgatory, so that's where they're sent."
Weis said Combs was open to the idea of red-shirting because it would give him more time in the program and a better chance of becoming an impact player. In addition, the move helps Weis better manage the large number of juco transfers he brought in this season, ensuring they don't all walk out the door at the same time.
"He's on board," Weis said. "We don't do these things without involving the player. Between (Ty) McKinney, Tedarian Johnson, Combs and (Andrew) Bolton, we were kind of hoping we'd play two of 'em and save two of 'em. Everyone was more enamored with the names and we're more enamored with what's best for the program. McKinney and Tedarian being here a semester earlier has them way ahead, whereas we think Combs and Bolton have huge upsides."
So far Combs' absence on the field has not been all that noticeable. Through two games, the Jayhawks have recorded six sacks, just four fewer than they had all of last season. Some of the credit for that goes to the guys playing in Combs' spot, and Weis said McKinney, a second-stringer behind senior Keba Agostinho, and starting nose tackle and captain Keon Stowers had been among the best players on KU's defensive line so far this season.
"We're gonna do our best for those guys to not see the field this year," said Weis of Combs and Bolton. "Those are guys waiting in the wings that bode well for the future of our program."
Cox to follow Combs?
In other red-shirt news Tuesday, Weis said senior running back Taylor Cox, who played in the season opener but left the game late with an injury, had been added to the list of potential red-shirts.
Cox missed last week's loss at Rice, partly because of the nagging hamstring injury, which Weis said had been recurring, and partly because of a death in the family. Because KU has solid depth at running back with James Sims, Darrian Miller, Tony Pierson and Brandon Bourbon, the Jayhawks have the luxury of waiting to see if Cox can fully heal.
"If it doesn't get better, we're gonna look to medical red-shirt Taylor," Weis said. "If it gets better to the point we can play him, we'll go ahead and do it. But right now we'll document it medically and that's the direction we're heading right now."
Offensive changes
KU's updated depth chart features a number of significant changes on offense, with four new starters in place and a couple of interesting moves happening behind them.
Most of the movement seems to come in response to KU's struggle with dropped passes, as junior Rodriguez Coleman jumped ahead of junior Justin McCay at X receiver and Trent Smiley replaced Jimmay Mundine at tight end. Weis said both McCay and Mundine would remain key parts of the offense, but it was time to see what the other guys could do.
"We're two games in," Weis said. "I'm not cutting anybody. What I'm doing is I'm putting people first that I think give us the best chance. The second guys play, too."
Other depth chart changes of note include: Riley Spencer moving ahead of Zach Fondal at right tackle; the center position becoming an open competition between Pat Lewandowski and Dylan Admire; and Tedarian Johnson taking Combs' place behind Stowers at nose tackle.
Asked how the affected players had responded to the changes, Weis answered with brutal honesty.
"I don't really care how they feel," he said. "I'm not looking to be buddy-buddy with the players. My job is to fix the problems."
More work for Bourbon
Junior running back Brandon Bourbon has been highly effective in limited touches so far this season and Weis said Tuesday that the Potosi, Mo., native deserved to be rewarded for his consistency.
Bourbon has averaged 8.2 yards-per-touch in two games and six tries — second, among Jayhawks with five or more touches, only to speed back Tony Pierson, who is averaging 14.8 yards per touch in 12 attempts.
"Bourbon will have an expanded role this week," Weis said. "I haven't been sleeping very well since Saturday night and Bourbon and Tony and a couple (other) guys will have expanded roles."