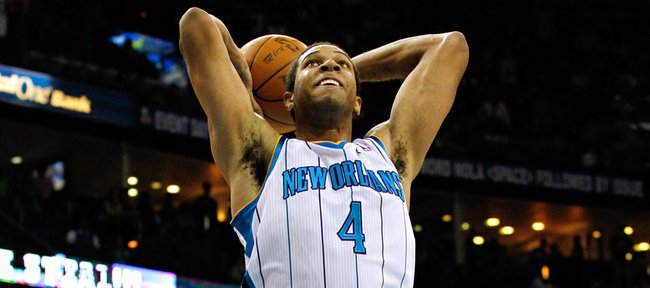 Former Kansas University basketball guard Xavier Henry, whose rookie contract expired at the end of the 2012-13 season, will try to resurrect his NBA career with the Los Angeles Lakers at the still-young age of 22.
The 6-foot-6, 220-pounder from Oklahoma City averaged 3.9 and 5.3 points a game the past two seasons with New Orleans after averaging 4.3 points a game his rookie season with Memphis. He recently signed a contract with the Lakers that various websites have said is contingent on his making the squad in training camp. However, spotrac.com indicates he has been guaranteed a one-year salary of $916,099. He made $1.7 million, $1,809,700 and $1,936,000 his first three years in the league.
"During the free-agent process, I was working hard and when I started to get feedback from teams, we thought (the Lakers) was a good fit for me," Henry told Lakers.com. "When the deal got done, I was excited. There's not one thing you can say wrong about the Lakers — their history, the players, the coach. They have one of the greats in Kobe (Bryant) that you can learn from every single day."
Henry, who was chosen No. 12 overall in the 2010 NBA Draft following his one-and-done season at KU, explained his slow adjustment to pro ball in Memphis in 2010-11.
"What really hurt me was I hurt my knee and basically missed the rest of the season. (Coach Lionel Hollins) played me, but I wasn't even healthy, and it was hard for me to deal with that going through the rest of the year. It was like I had to start all over," said Henry, who played in 38 games his injury-plagued rookie season.
"It was going good at first right after I got drafted. I had O.J. Mayo and Tony Allen (ahead of him). They started with Mayo, and we weren't winning much. They started Allen, and we still weren't winning much, so they put me in. I was playing fine as a rookie to get my feet wet. A couple games in, my knee (acted up), and that was it.
"It wasn't a happy time for me because I was hurt and I had an opportunity in front of me. I tried to play a couple games after I got hurt and I could barely even move, and I knew I had to shut it down. Everybody was good to me. I was always battling back. I was just trying to get back healthy. If I'm healthy, I know I can play. There's no denying that," Henry added to Lakers.com.
In Henry's year at KU (2009-10), the Jayhawks went 33-3 overall and won both the Big 12 regular-season (15-1) and postseason titles. KU fell to Northern Iowa in the second round of the NCAAs.
"It was unbelievable playing with the guys we had and under coach (Bill) Self. It was probably one of the most fun years of my life," Henry said. "For the whole year, I got better and I tried to prove a point that this is my game. It's funny to look back that I'm not old, but only four years out of college."
Henry tweeting: Henry, perhaps signaling his new start in a major media market, has signed up for Twitter. His handle is @xhenry7. He calls himself "shooting guard for the Los Angeles Lakers #Jayhawks."
"Hey everybody thank you and I appreciate the support! It'll be a great season! And I'm glad to be spending in it LA!! #LakerNation," Henry wrote.
Rush needed in Chicago: ESPN.com's Bradford Doolittle thinks the Chicago Bulls should try to trade for former KU guard Brandon Rush, about to start his first season with the rebuilding Utah Jazz.
"During Rush's last two healthy seasons, he's ranked in the top third of individual defenders by Synergy's points per possession allowed," Doolittle wrote. "On offense, he's a career 41 percent shooter from deep, giving a healthy Rush a much-coveted skill set that you can plug into most any team. He's seemed athletically capable of more on offense, but after four full seasons then an injured-wrecked campaign (at Golden State last year), we have to place him in the "is what he is" category.
"'What he is' would be useful to Chicago. The Bulls don't have a pure shooting guard on the depth chart and are projected to rank 22nd in three-point accuracy. Most importantly, Rush plays enough defense to convince coach Tom Thibodeau to actually put him on the floor," Doolittle added.
Decommits: Louisville has had two top preps decommit in the past several days. First, No. 31-rated Quentin Snider, 6-1 from Louisville's Ballard High, decommitted on July 31 and has since committed to Illinois. On Friday, No. 22-rated JaQuan Lyle, 6-5 from Huntington (W.Va) Prep, originally from Evansville, Ind., decomitted from Rick Pitino's Cardinal program.
Some recruiting analysts believe it is possible prospects Cliff Alexander of Chicago and Lyle will consider attending KU as a package deal.
College recruiters, by the way, cannot evaluate players at practices at Lyle's Huntington Prep, Yahoo!Sports has reported. The NCAA has declared Huntington Prep and Findlay Prep in Nevada off limits at this time because they have been classified as "non scholastic."
Yahoo said college coaches have been told by the NCAA ... "A team that is affiliated with a scholastic institution, but not subject to the rules and regulations of a scholastic governing body would be considered a nonscholastic team for purposes of applying the evaluation legislation set forth in Bylaw 13.1.7.8.1-(a). … At this time, the AMA staff has been presented fact situations involving two teams, Findlay Prep and Huntington Prep, and has determined that based on the facts presented and the above mentioned legislation and interpretation, both of those teams would be considered nonscholastic teams …"
KU freshman Andrew Wiggins attended Huntington Prep. No. 7-ranked Rashad Vaughn and No. 12 Kelly Oubre, who both are considering KU, attend Findlay Prep.

One coach told Yahoo he thought this would be cleared up within a few weeks and coaches would be allowed back at practices at these institutions.
Blackmon update: KU is one of many schools on the list for James Blackmon Jr., a 6-3 senior combo guard from Marion (Ind.) High who is ranked No. 23 in the Class of 2014 by Rivals.com. Blackmon, who recently decommitted from Indiana, still has IU on his list, plus KU, Kentucky, Michigan, Louisville, North Carolina, Michigan State and Florida State. KU figures to be a long shot considering Blackmon has made unofficial visits to Indiana, Michigan, Michigan State, Louisville and Kentucky.
More like this story on KUsports.com