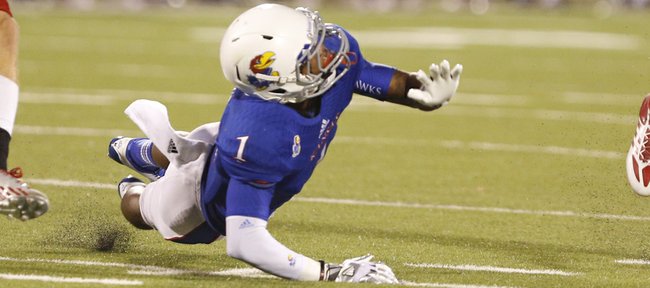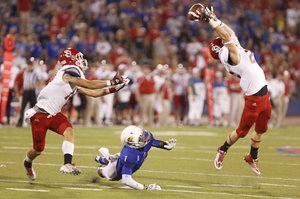 It was South Dakota's secondary, not Oklahoma's or Oklahoma State's or Rice's. The pass fell incomplete, and we'll never know if the overthrown target would have caught an accurate throw and taken it into the end zone. But when the topic is Kansas University and its wide receivers, it's best to embrace encouraging signs where you can find them.
No. 1 Rodriguez Coleman slipping behind the Coyotes defense and attempting to make a diving catch, coupled with the way Kansas coach Charlie Weis has talked about him since he started practicing, tickles the imagination. Might he be the deep threat this team so desperately needs to complement possession receiver Justin McCay?
On the first-quarter play, Jake Heaps stepped up in the pocket and threw the ball 50 yards in the air when all that was needed was 47 yards.
"The entire night, that's the only real throw that Jake would want to take back," Weis said. "Ran right by him, overthrew him by a few yards. I was actually glad to see a receiver lay out to try to catch the ball. He's a guy — you can't just force-feed him, he's got to earn the time — he's on the cusp of taking a meteoric rise up the depth chart."
Cornerbacks, including Conference USA preseason defensive player of the year Phillip Gaines, are the strength of Rice's defense. It will be much tougher to beat them deep, but that doesn't mean Kansas won't try, especially if the Owls cheat to crowd KU's running game.
A 6-foot-3, 195-pound former standout high school hurdler, Coleman chose KU over Kansas State and hometown school Cincinnati after attending Garden City Community College.
"At juco, I never had a receivers coach," Coleman said. "We were learning from each other. I feel coach (Rob) Ianello is teaching me well, my routes, how to run them, how to attack the defender."
The touchdown goose egg for KU receivers in 2012 drew national attention, but the drought has been in the making for a few years. JaCorey Shepherd led Jayhawks receivers with three touchdowns in 2011, and Bradley McDougald and Daymond Patterson shared team honors with two in 2010. For comparison purposes, Dezmon Briscoe averaged 12 TD catches in his final two seasons, and Kerry Meier averaged eight over the same period.
"I feel I can help be a deep threat and make plays when the ball is in my hands," Coleman said. "I feel I can be that type of receiver."
Coleman made the biggest catch of the season for Garden City in 2012, setting up the game-winning field goal in the Broncbusters' 31-29 victory against Co-Lin in the Mississippi Bowl. Coleman was on the ground when he caught a tipped ball, good for a 62-yard gain.
"That was my most memorable catch in junior college," Coleman said.
His next catch will be his first for Kansas, likely the first of many.