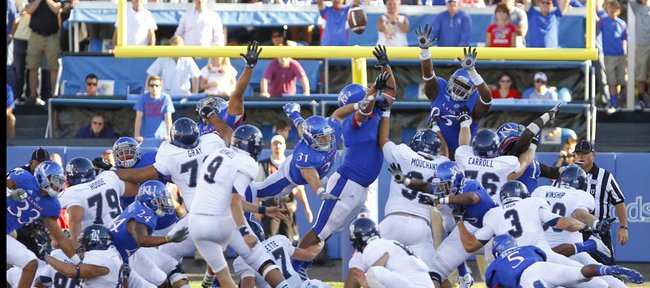 Last season, when Rice kicker Chris Boswell knocked a 45-yard field goal through the uprights as time expired to give the Owls a one-point victory over Kansas University, the Jayhawks' best football player changed the channel.
Sidelined while serving the second leg of a three-game suspension for an offseason arrest, then-junior running back James Sims was not at Memorial Stadium on Sept. 8, 2012, when the Owls topped the Jayhawks, 25-24. Being there, and watching his teammates compete without him, was too difficult for Sims, who was given the choice by KU coach Charlie Weis to attend the game in street clothes or watch it on TV at home. He chose the latter. And he chose to watch by himself.
"I couldn't really come up here and do that," Sims recalled Wednesday, as the Jayhawks continued preparations for Saturday's 6:30 p.m. rematch against Rice in Houston. "I already felt bad about the situation that I was in and I felt like it was just best if I sat at home and watched the game. Me not being out there, physically, would've hurt me."
So instead of watching from the stands with the thousands of people who had become used to cheering for him, Sims laid low and watched from his couch in his apartment.
At first, Sims was encouraged. Although he cheered every first down and each defensive stop, he paid extra attention to Tony Pierson and Taylor Cox, the two backs who filled in for him. Although he enjoyed watching Pierson and Cox combine for 199 yards and a touchdown on 34 carries in his absence, there was a part of Sims that could not help but wonder how much he could have helped. If he had played, would the outcome have been different?
"It was pretty painful," he said. "I was happy for (Cox and Pierson) but not happy about the outcome of the game. Knowing that you can't be out there with your teammates due to a mistake you made is pretty hard to handle. I did what I had to do and I paid my dues and now I'm back and I'm just ready to go again."
Up-tempo offense
With the rest of the Big 12 offenses playing at a breakneck pace, Weis decided to add the fast-break look to the Kansas offense and unveiled a tiny portion of it last week.
"We've been practicing trying to get the ball snapped in 15 seconds or less," he said. "And it was multiple formations, too. We've been working on this quite some time and it was part of my thought methodology back in November and December when I said, 'How am I gonna help the defense get better?' Well, if I'm gonna practice it, we might as well put it in. They just thought I was doing it for the defense. But I'm selfish. I'm an offensive guy. You think I want to do all that work and not get anything out of it for the offense?"
KU-Rice connections
Four members of the Rice coaching staff either played or coached at KU during recent years, but Weis does not believe that the familiarity gives either side an advantage this weekend.
"Our defensive staff is very familiar with what they do on offense and vice versa," he said. "(Rice offensive coordinator John) Reagan and (KU linebackers coach) Clint (Bowen) have been friends for a long time and worked together for a bunch of years. There's not a bunch of surprises."
Reagan coached KU's offensive line from 2005-09, while Rice assistants Ryan Cantrell (offensive quality control), Adrian Mayes (offensive grad assistant) and AJ Steward (offensive grad assistant) all played offense for KU between 2005 and 2011.
More like this story on KUsports.com