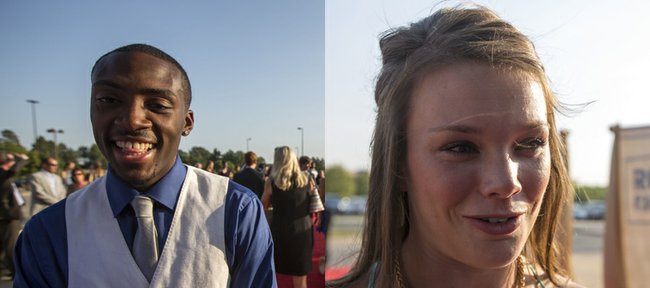 A record-breaking year for Kansas University's track and field teams was capped off with a clean sweep of the final three awards during Sunday's Rock Chalk Choice Awards at Lied Center.
Jumper Andrea Geubelle won the 2012-13 female athlete of the year, men's hurdler Michael Stigler was named male athlete of the year, and the women's track team's clinching of the NCAA Outdoor national championship was recognized as the Rock Chalk Moment of the Year.
"For track to get recognized like this, it's great," Stigler said. "That means we're up on the rise, just like the basketball team, so we've just got to continue doing what we're doing."
In her final season as a Jayhawk, Geubelle won two Big 12 championships, a pair of NCAA Indoor championships and also was first in the triple jump at the USA Track and Field Championships.
Other nominees included teammates Natalia Bartnovskaya and Lindsay Vollmer, women's basketball player Angel Goodrich, softball player Maggie Hull and volleyball player Caroline Jarmoc.
"Winning a team championship, I couldn't have imagined any other way to end my collegiate career," Geubelle said. "I'm proud of my team, proud of my coaches and honored to be a part of that program. I'm really excited for their future."
Stigler, just a junior this season, finished second in the 400 meter hurdles at the 2013 NCAA Outdoor championships. He also is a two-time Big 12 outdoor champion in the event and holds the school record.
"He hates to lose — at practice and at competitions," Geubelle said. "He overall just leads the team. You can watch people follow him, and he will never have to say a word."
Stigler took the top honor over teammate Kyle Clemons, golfer Chris Gilbert, men's basketball players Ben McLemore and Jeff Withey, baseball closer Jordan Piché and football running back James Sims.
KU track and field coach Stanley Redwine described Geubelle and Stigler as great competitors.
"It's unbelievable the things they were able to accomplish," Redwine said, "because they put their work in."
McLemore, who was taken seventh overall by the Sacramento Kings in this year's NBA Draft, attended the event alongside former teammate Naadir Tharpe.
Wearing a red San Francisco 49ers hat (San Fran is about 90 miles away from Sacramento), McLemore said he was beginning to settle into his new locale. He recently secured a place to stay in Sacramento and has started to get acquainted with his new teammates and coaches.
"I'm definitely enjoying the process right now," McLemore said, "and ready to start up and get this thing going."
Other award winners at the hourlong Rock Chalk Choice Awards were:
• Football halfback Tony Pierson, who won the Crimson Climb Award, given to the an athlete "who has served as an inspiration to others by overcoming academic challenges and exceeding academic expectations."
• Volleyball libero Brianne Riley, who picked up the Jayhawker Award, given to an athlete who exhibits commitment to KU principles while demonstrating "mental toughness in the face of adversity and competition while making a positive contribution to Kansas Athletics."
• Volleyball setter Erin McNorton, who won Best Jayhawk in a Supporting Role, given to an athlete who "demonstrates extraordinary sportsmanship, support and loyalty to teammates and Kansas Athletics."
• Rower Abbey Lozenski, who was honored with the True Blue Award, given to an athlete who "demonstrates devotion to excellence in academics and athletics while advancing Kansas Athletics through participation in various student organizations and community service projects."
Also, KU soccer won the Top Team GPA Award, while volleyball won its third straight CHAMPS crown, which is based on "participation in personal development, community outreach, team GPA, Jayhawks Supporting Jayhawks, Student-Athlete Advisory Committee (SAAC) and Jayrock activities."
More like this story on KUsports.com