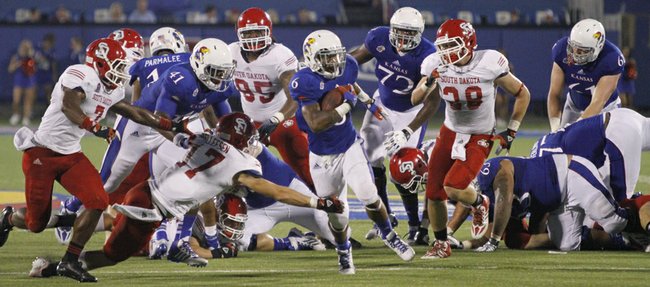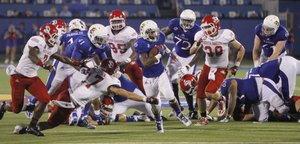 The first game back was pretty overwhelming for Kansas University football running back Darrian Miller.
Miller, James Sims' former running mate whose Kansas career was temporarily derailed after a strong freshman season, was back with his old team, in his old stadium, Saturday night. But KU's 31-14 victory against South Dakota provided him with different circumstances.
The first moment Miller realized things were different came when he walked into the KU locker room and saw his name on the back of his jersey, which now featured a big No. 6 instead of his old No. 3, which now belongs to Tony Pierson.
"It was a lot different, to be completely honest," Miller said. "As soon as we walked in, I was just sitting there with the guys. I sat there next to (junior Brandon) Bourbon, and I just looked out and was like, 'Man,' it's almost taking my breath away. To put the helmet on, the jersey, I've never had my name on the back of the jersey anyway, so as soon as I saw that, it made me feel good and made me feel like the fruits of our labor … we've been working so long … it was definitely something."
The last time Miller played a home game for the Jayhawks — Nov. 12, 2011 vs. Baylor — he rumbled for 147 yards on 24 carries during a 31-30 overtime loss. At the time, the performance seemed like the next big step in a promising career. But what transpired during the next few weeks sent Miller down a different path.
First was a 61-7 loss at Texas A&M.; He rushed 11 times for 16 yards in that one and was a non-factor. Then came the season finale against Missouri at Arrowhead Stadium in Kansas City, Mo. Miller didn't dress. He was suspended by former KU coach Turner Gill. Less than two months later, off-the-field concerns prompted new KU coach Charlie Weis to dismiss Miller from the team.
After a year away from Lawrence — part of which was spent on the roster at Butler County — Miller was welcomed back by the KU staff and did not hesitate to accept the offer. He knew things had changed. Sims clearly had become the team's top threat. Pierson was right behind him. And Bourbon and Taylor Cox also were too good to keep off the field. Didn't matter. Miller was up for the challenge of competing and, after being away from the KU sideline, wanted nothing more than a chance.
"After everything I've been through, I'm more thankful just to even be sitting on the sideline at any school," he said. "I know my time's gonna come, and, when it does, I gotta make the most of it. It's all just about maturing, and it's really nothing to sit on the sideline and wait because at least I know that I'm going in."
Miller got in plenty during Saturday's victory, finishing with 72 yards on 14 carries, both good for second on the team. He was not the wild highlight machine that many KU fans remember, but he was sharp and maybe even a bit more efficient than before.
"It was fun," he said. "And it's been awhile since I've had fun playing football. That's why I didn't think about carries or anything like that. Just being out there was cool. Just because I'm critical about how I play, I always expect more. But, as a start, it was good. It just felt good to be back running with the team and helping out any way I could."