Photo Gallery
KU v. South Dakota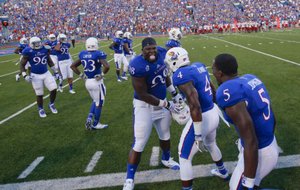 Images from Saturday's season opener against South Dakota at Memorial Stadium.
Podcast episode
Kansas coach Charlie Weis talks to reporter following the Jayhawks' 31-14 victory over South Dakota on Sept. 7, 2013.
South Dakota football coach Joe Glenn knew it'd take a remarkable effort from his FCS Coyotes to defeat FBS member Kansas University on Saturday night at steamy Memorial Stadium.
"You always have to go play these teams on the road. They've got a little bit more everything than you've got," Glenn said after the Coyotes' 31-14 loss to the Jayhawks. "It's tough to win. Yet Northern Iowa did it (against Iowa State). Eastern Illinois did it (against San Diego State). Eastern Washington did it (against Oregon State).
"I take my hat off to those teams that did it. It's really hard to do," he added of the smaller division upending the larger division.
South Dakota, which actually led 7-0 after one quarter and trailed by just seven points, 14-7, at the half, was outgained by just 104 yards — 390 to 286 yards.
"Hopefully we don't play too many teams with that much talent. I think we can handle one wave of it, but when they can come with three backs and a couple more receivers ... we saw a couple really good backs," Glenn said.
KU's James Sims gained 94 yards off 16 carries and scored on one and six-yard runs. Darrian Miller had 72 yards off 14 carries, while Tony Pierson and Taylor Cox gained 47 and 44 yards apiece. In his KU debut, Jake Heaps completed 10 of 20 passes for 110 yards and one TD, a five-yard bullet to Justin McCay.
"He did a nice job," Glenn said of Heaps. "Ten-for-20, you know that's kind of pedestrian, but they really were going to run the ball when they saw they could run it, a little blood in the water. They went after it. Sims and Miller are a pretty good 1-2 punch, there's no doubt. Sims had over 1,000 yards rushing last year. You kind of expect he's going to get it against a team that's not a Big 12 team. They did a nice job running the football tonight," Glenn added.
Glenn gave a shout out to KU's defense for perhaps the most exciting play of the game — an interception by defensive lineman Keon Stowers on a third-and-three call from the South Dakota 40. Stowers scored, but his dash to the end zone was called back because of a penalty. At the time, the score was 7-7.
"I give their defensive coordinator credit. We had third-and-three and ran a crosser. He's wide-open, and they drop the noseguard ... come on," Glenn exclaimed. "He caught it and ran it in for the touchdown. It didn't count. It was a good call. You don't see that dropping the noseguard when he weighs 320 pounds into the coverage very often. They'll probably drop him all the time now after he ran into the end zone. That's not on Josh (Vander Maten, QB). It's hard to see that. The linebacker is who you are reading. You could tell he couldn't see him. It (pass) went right to him (Stowers)."
South Dakota junior QB Vander Maten completed eight of 18 passes for 67 yards, an interception and a TD.
"Right now I can think of four or five plays that stick out that maybe could change the game we missed or were that close on," Vander Maten said. "You got to capitalize on those plays, especially if we want to beat a good team like Kansas. We have to make those plays. We got to go forward and hopefully start making those plays so we can get a win."