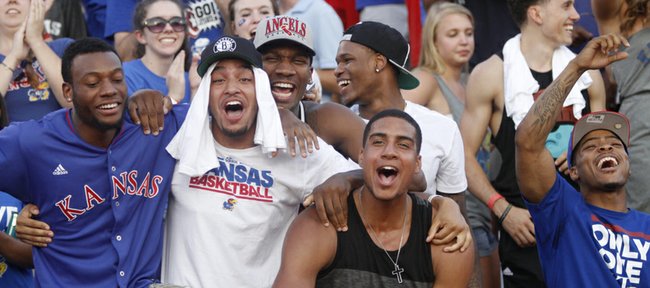 Photo Gallery
KU v. South Dakota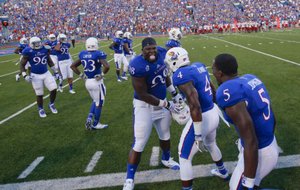 Images from Saturday's season opener against South Dakota at Memorial Stadium.
Podcast episode
Kansas coach Charlie Weis talks to reporter following the Jayhawks' 31-14 victory over South Dakota on Sept. 7, 2013.
The Kansas University football team's offense and defense may have taken small steps forward during a 31-14 victory against South Dakota at Memorial Stadium on Saturday night.
But the special teams made a giant leap.
From kickoffs knocked out of the end zone to returns that set up the Jayhawks' offense with good field position, the special teams, as a whole, was one of the brights spots of Saturday's season-opening victory. That fact was not lost on KU coach Charlie Weis, who spent much of the offseason determined to fix the all-important third facet of football.

"I was very pleased with the overall performance of the special teams," Weis said.
And how could he not have been? The Jayhawks got a made field goal from Matthew Wyman — a 45-yard no-doubter, no less — a punt block from last year's Mr. Special Teams, Josh Ford, touchbacks on three of six kickoffs from Trevor Pardula and a strong showing from former walk-on Connor Embree in the return game.
Embree, the son of former Colorado coach Jon Embree, who was placed on scholarship during fall camp, finished second on the team in all-purpose yards, rumbling for 92 yards on four punt returns.
"That's who Connor Embree is," Weis said. "(He) makes good decisions and after he makes good decisions, he usually makes the first guy miss."
As for that field-goal attempt that often forced fans and even a few Jayhawks to look away last season, the walk-on kicker who never had made a kick of any kind in a football game drilled it like he'd been doing it his whole life.
"I'm sure the stadium was holding their breath, 'Here we go again,'" Weis quipped. "And it was nice to see on the first opportunity he had, he put it right through the uprights."
Heeney had cramps
One of the most talked about aspects of Saturday's victory was the vision of junior linebacker Ben Heeney running to and from the locker room throughout the game. Not to worry, said Weis of his middle linebacker who still finished with four tackles.
"He was cramping," Weis said. "That being said, I thought (sophomore Heeney backup) Schyler Miles stepped up. That's the Schyler Miles that I recruited. That's the Schyler Miles that I remember."
As for senior running back Taylor Cox, who hobbled off the field late in the game, Weis said after the game that he was unsure whether the ailment was cramps or something more serious.
Enough already
Now that KU's streak of games without a wide receiver catching a touchdown is over, Weis hopes everyone can put last year's tragic stat behind them. Although it looked as if Ford had broken the streak with a 22-yard grab late in the fourth quarter, replay ruled that Ford was down at the 1. Three possessions later, junior quarterback Jake Heaps hit junior wideout Justin McCay in the back of the end zone to put KU ahead for good.
"I said, 'OK, now will everyone shut up about the wide receivers,'" Weis joked. "As a matter of fact, on the touchdown to Justin, I thought (Heaps) was gonna throw it to Tony (Pierson, in the flat) and I was thinking, 'Just throw it to Justin.'"
Short misses opener
Junior college transfer Kevin Short, the highly touted, former juco All-American who reported to campus late this summer and was projected as a possible starter at cornerback, missed Saturday's game due to personal reasons.
"Kevin is not being disciplined by either the University of Kansas or the football program," Weis said in a statement released before kickoff.
Dexter McDonald and JaCorey Shepherd started at cornerback for the Jayhawks.
This and that ...
The Jayhawks lost Saturday's opening coin toss and chose to receive the first-half kickoff after South Dakota deferred. ... Junior nickel back Victor Simmons led the KU defense with a career-high eight tackles. ... Ben Goodman and Tedarian Johnson recorded sacks (the Kansas defense had just 10 sacks all of last season). ... KU improved to 70-47-7 in season-openers and now has won 26 of its last 28 non-conference home games. ... Temperature at kickoff was 97 degrees, under sunny skies with winds of 10 mph out of the south.