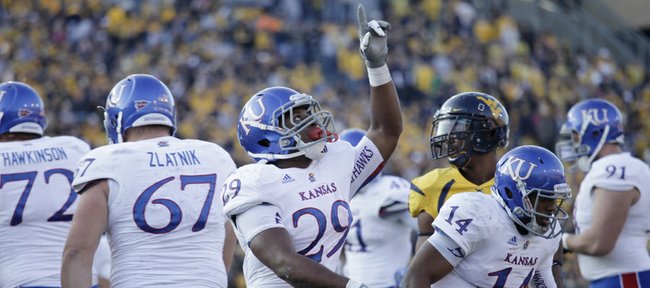 Tony Pierson, Brandon Bourbon and Taylor Cox are faster than James Sims. Bourbon and Cox weigh more than Sims. Darrian Miller and Pierson are even more slippery than Sims. So what is it about the senior from Irving, Texas, that enables him to keep his role as the Kansas University football team's featured running back?
Others who have tried to knock him off the perch and could not took a stab at answering that question.
"Durability, for one," Bourbon said. "He's been here four years and never really had any problems."
Pierson called Sims, "a good leader. Positive role model, and he's just a confident player."
Cox came closer, saying, "I would say he's just a football player. He finds a way to get it done. He has good vision. He sees the whole field pretty well. He has so much game experience in the Big 12. I feel like it helps him a lot. It helps him see the holes a little bit better and get it done. He's a good player."
Sims himself did the best job of identifying what he does better than anyone else, and his understanding of that opens a window to the real answer: He understands the position, the nuances, knowledge and instincts necessary to play it more completely and efficiently than anyone else.
"Patience and pass protection," Sims said. "Being able to pick up my block."
Picking up his block against blitzing quarterback hunters and picking up his blockers when running combine to make him a key to both KU's running and passing games.
"You have to have patience to read and see how the play is going to develop," Sims said. "If you're in a rush, then the play really doesn't work, so it really doesn't matter what the play is. Patience becomes the key with everything."
It's a learned skill, he said.
"It took some time," Sims said. "I was always in a hurry to go and just get out and do everything. I'd say I got it down just this last year."
Thanks to a great extent to running-backs coach Reggie Mitchell's productive recruiting efforts, Sims faces a challenge for carries from different style backs every season. Each year, he gets slimmer, quicker and more productive. His work load grows (168 carries in 2010/182/218), his season-long run becomes longer (28 in 2010/56/64), his conditioning better (226 pounds as a sophomore, 200 pounds now).
Now that Miller is back after a year as a non-playing student in junior college, joining Pierson, Cox and Bourbon, Sims faces stiffer competition from within than ever. And Mitchell makes it sound as if Sims will be more difficult than ever to catch.
"During the offseason, he worked on his speed, so he's faster," Mitchell said. "He worked on his quickness. By him being in the offense for 18 months, he has a really good feel for how things are being blocked. He just looks really good right now."
Sims attributed the speed improvement to workouts with strength-and-conditioning coach Scott Holsopple, who introduced Sims to new training methods, including yoga, according to the running back.
"He's in really good shape, and he's playing really well right now," Mitchell said. "If you look at a picture from his freshman season to now, he's totally different. Even from the end of last season to now, he looks better."
An argument could be made that if the name of KU's most valuable defensive player in 2012 was not second-team All-Big 12 middle linebacker Ben Heeney, then it was second-team All-Big 12 running back James Sims. By rushing for 1,013 yards in nine games on a career-best 4.6 yards per rush, Sims limited the amount of time KU's speed-challenged defense spent on the field.
During a stretch of the Big 12 schedule that spanned from September into November, Sims had a school-record six consecutive 100-yard rushing games, four of them on the road.
If Sims leads the Jayhawks in rushing again, he will become KU's second running back to do so four seasons in a row, joining Tony Sands (1988-91). Sims would need to rush for 1,360 yards to pass June Henley as KU's career rushing leader. That would require an average of 113.3 yards in 12 games, compared to a 112.6-yard average in nine games last season.
A more balanced attack than last year's run-heavy approach could keep that from happening. Sims, who hasn't played in a game for the winning side since he rushed for 110 yards and two touchdowns in KU's 45-42 victory in Memorial Stadium against Northern Illinois on Sept. 10, 2011, welcomes what an improved passing game could bring.
"It's opened up a lot, as far as just not coming into a game just knowing we're going to run the ball 50 times," he said. "Knowing that we're going to run and pass, that will keep defenses on their heels, which is going to be a positive for us as a whole and put points on the board."
Sims has rushed for nine touchdowns in each of his three seasons at KU, but never has had enough company in getting to the end zone. He sounds confident that is about to change.