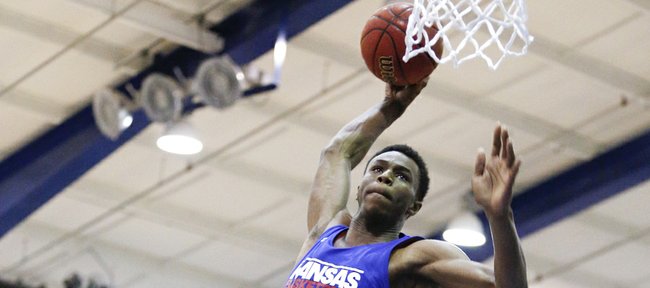 Kansas University freshman basketball player Andrew Wiggins has been named 2013-14 preseason All-America by Blue Ribbon College Basketball Yearbook.
The 6-foot-8 guard from Thornhill, Ontario, is joined by Oklahoma State sophomore Marcus Smart, Creighton senior Doug McDermott, Louisville senior Russ Smith and Michigan State junior Adreian Payne.
"This is a great honor, but really means nothing since I have yet to play a game in college," said Wiggins, who averaged 23.4 points, 11.2 rebounds, 2.6 blocks and 2.5 assists last season for 30-3 Huntington (W. Va.) Prep. "We're working hard every day to get better as a team and get ready for the season," Wiggins added.
The country's No. 1-rated player in the Class of 2013 by every recruiting service was named 2013 Gatorade Male Athlete of the Year in July.
Newberry on list?: KU is recruiting Jeff Newberry, a 6-2, 180-pound sophomore point guard from New Mexico Junior College in Hobbs, N.M., Rivals.com reports. Newberry averaged 14.8 points and 4.3 assists per game last season for Northeast Oklahoma Junior College. He spent a year at Mississippi where he redshirted the 2011-12 season.
The Atlanta native, who visited West Virginia in May, will visit LSU this weekend, Memphis on Sept. 13 and Oklahoma State on Oct. 18. He's also looking at Texas, UCLA, California and others.
Toughest schedule: SI.com's Andy Glockner on Tuesday lauded KU's nonconference schedule as the toughest in the country. He listed one school — KU — under the headline "This is how you do it."
"Yes, yes, 1,000 times yes. And this schedule was in place before the Jayhawks even knew they were getting Andrew Wiggins, so good on them," Glockner wrote. "Beastly slate. I'm going to watch the heck out of this. Even the 'easy' games at home are against quality mids like Iona and Towson. They play Duke in Chicago, play true road games at Colorado and Florida, and also host New Mexico, San Diego State and Georgetown. Love it. Easily the best nonconference schedule in the country. The young, talented Jayhawks will be extremely battle-hardened for the Big 12 race." To read Glockner's story, click here.
More like this story on KUsports.com