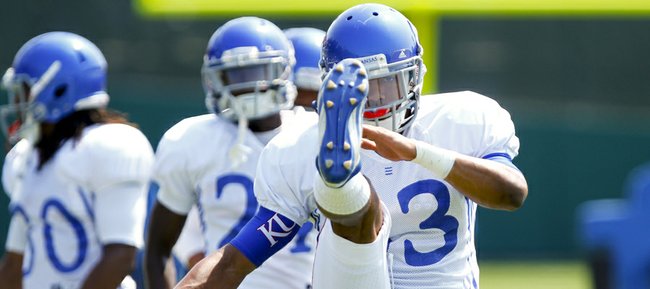 When the Kansas University football staff received a commitment from defensive back Cassius Sendish during the winter recruiting period, KU's coaches felt like they landed a pretty good player.
As it turns out, what they got was a guy capable of playing multiple roles and influencing several positions. That much has been obvious throughout Sendish's first eight months in Lawrence and became even clearer Tuesday, when KU coach Charlie Weis released the first depth chart of the 2013 season. On it, Sendish was listed at his third different starting position since March. The 6-foot, 195-pound junior from Arizona Western will open the season as the Jayhawks' starting free safety after spending the summer at nickel back and spring at cornerback.
"What we did was we took a position of strength and we strengthened a position that we thought was a weakness," Weis said.
Both Weis and Dave Campo, who oversees KU's defense, said Tuesday that such a move would not have been possible if not for the emergence of junior Victor Simmons and red-shirt freshman Courtney Arnick at the nickel back position. Simmons, who has played both safety and linebacker at Kansas, slid into Sendish's first-string nickel spot and Arnick landed as the backup.
"Really, it's not an incrimination of anyone," Weis said. "Those guys are playing good enough that it allowed us the flexibility to move Cassius back to safety. We felt good about the nickel position, but we were really concerned about the safety position because we didn't feel like we had any depth that had any experience at Big 12-caliber football."
Shifting from position to position is nothing new for Sendish, who has been on the move since he first started playing football at age 6. He started as an offensive lineman, moved to running back a year later and finally settled in as a cornerback his freshman year of high school.
Campo said Sendish reminded him of a smaller Darren Woodson, whom he coached as both a safety and nickel back for the Dallas Cowboys. The big difference is their size, as Woodson tipped the scales at 6-2, 218 pounds. In every other aspect, though, Campo said the comparison was solid.
"The one thing about Cassius, he demonstrated right from the very beginning that he was capable of playing two positions (and) understanding what we were trying to accomplish defensively," Campo said. "He's got corner ability, he's got safety smarts and he's physical. He can play a number of different positions and do it relatively easily because of his mental capacity."
As for Simmons, who stands 6-1, 220, he more closely resembles Woodson in physical stature.
"Victor has had an excellent camp," Campo said. "I think the lights turned on for him. He's a physical guy with speed. I think he's made really good strides. I don't know that we would've made the move if we didn't feel like Victor and Courtney had made an awful lot of improvement during camp."
Sendish's flexibility not only allows the KU coaching staff to plug holes but also brings a sense of calm to a thin position that will receive its first test at 6 p.m. Saturday against South Dakota at Memorial Stadium.
"If we're not strong there, it results in touchdowns," Campo said of the safety position. "If we're not strong at nickel, it may keep us on the field a little longer, but it's not as big a touchdown-producing position. I think it was important for us to get a feel that we were strong across the board with guys at the back end."
Kicking game looks good
In 2012, KU's kicking game gave fans and coaches headaches throughout the season. Although results on the field will reveal just how much of an upgrade Weis and company made at those crucial special teams spots this offseason, the general feeling is that KU's kickers can get the job done.
"I'm really confident in Pardula as both a punter and a kickoff guy," Weis said of juco transfer Trevor Pardula. "And the guy who was probably the most pleasant surprise of anyone was (place-kicker Matthew) Wyman. The kid's only missed a couple kicks since he's been here. He was running the fourth kicker, then he was the third kicker, then he was the second kicker, then he was the first kicker and he hasn't looked back."
Wyman held off Pardula, Hutchinson Community College transfer Michael Mesh and veteran Ron Doherty to win the place-kicking job this fall and has restored his coach's faith in the field goal.
"All the kid did was clearly win the competition and it wasn't really close," Weis said. "The fact that the ball's on the 30 and you kick a 47-yarder and you're not saying, 'We have no chance,' (is nice)."
Slater all but gone
Weis was asked early during Tuesday's news conference if there was any update on offensive lineman Pearce Slater, who reported to KU in early August but then went home to California because of a family medical emergency and has not returned.
If reading between the lines means anything, it does not appear as if the Jayhawks are expecting Slater back. KU no longer lists the 6-8, 340-pound tackle on its roster and Weis was in no mood to talk about him Tuesday.
"He's not here," Weis said. "I'll talk about the guys that are here. That's the end of my comment."
Cox not red-shirting
Senior Taylor Cox was the most logical candidate in KU's deep and talented running back corps to red-shirt the 2013 season, but now it's quite clear that Cox won't be taking the year off.
Despite offseason discussions between Weis and Cox about the 5-foot-11, 212-pound tailback's options, Cox showed enough during fall camp to keep his place as a viable part of this year's team.
"I let him have the input and said, 'OK, we'll go through training camp as long as you earn the right to be in this mix,'" said Weis, who added that Cox was concerned about being too old to attract attention from pro scouts if he stuck around an extra year. "And he's just had a great camp. We're worrying about this year right now. We'll worry about next year next year. ... No one's playing way better than Taylor."
Balance the goal
Last season, in 871 plays, KU ran the ball 64 percent of the time, largely because production in the passing game fell well short of expectations.
At the Jayhawks prepare to kick off the 2013 season Saturday night with a clean slate, Weis said he believed the presence of junior quarterback Jake Heaps and a variety of weapons around him would make things different this time around.
"I'm looking forward to being able to be more balanced," he said. "I'm looking forward to, when you come in on Monday, not saying, 'OK, what are the 80 ways we're gonna run the ball this week.' When you're open to more things that you can do, it makes it a little bit easier."
Injury update
The Jayhawks appear to be ready to enter Saturday's season opener with all but one guy on the roster at their disposal.
"The only guy who's clearly not going is (Marcus) Jenkins-Moore," Weis said of the injured linebacker from Pierce College. "In fact, that's our injury list. There wouldn't be anyone listed any lower than probable. So (we're) pretty healthy as of right now."
More like this story on KUsports.com