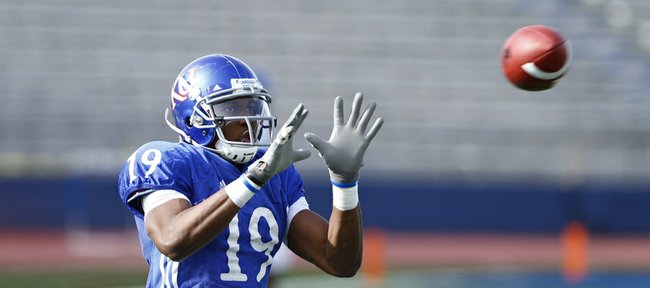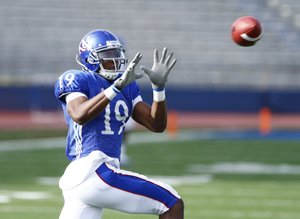 It has been three years since Kansas University wide receiver Justin McCay ran onto a college football field for the first time.
But there's something about the whole experience that has the former Bishop Miege standout feeling like this weekend's season opener against South Dakota actually will be his first taste of college football.
"It's an overwhelming feeling because it's been a long ride for me," said McCay, who transferred to Kansas from Oklahoma and sat out the 2012 season after red-shirting at OU in 2010 and playing in just three games in 2011. "It's been a long journey, and it's not even over. I just don't want to let anyone down, especially my team. If we get the W in the win column, I'm happy."
Things are certainly different for McCay today than they were at any point during his brief career with the Sooners. For starters, the 6-foot-2, 210-pound junior is listed as the top option at KU's X receiver on the depth chart. Beyond that, he's in a much better place in life than he was back then. McCay transferred to KU to be closer to his family in Kansas City, Mo. Although his late father will not be in the stands watching his first game as a Jayhawk, several others who share McCay's bloodlines will.
"Oh, man. I can't get enough tickets," he said smiling, asked how many relatives would be at Memorial Stadium for Saturday's 6 p.m. kickoff.
While just thinking about the personal cheering section which figures to be loud and proud throughout Saturday's opener brought joy to McCay's face, the fact that tugged hardest on his heart strings was knowing that his three younger sisters, ages 6, 7 and 9, would be there well past their bed time wearing their No. 19 Kansas jerseys that are a little too big.
"I know I want to get my little sisters to every game," he said. "They'll enjoy it. I don't think they still know what's going on, but they'll know, 'Hey, that's my brother.' That's enjoyment in my heart."
The Kansas depth chart features eight starters who have been waiting what seems like forever for Saturday night to arrive. Six of them are junior-college transfers who have been in Lawrence less than a year, and the other two are McCay and junior quarterback Jake Heaps, who transferred from BYU at the same time McCay came to town and developed a strong bond with him on the scout team a season ago.
Although Heaps, who set multiple freshman passing records at BYU, is eager for his next chance to play, he sympathizes with McCay's delay.
"For Justin, it might have even been worse because he had a glimmer of hope that he might actually be able to play last year," said Heaps, referencing McCay's appeal for immediate eligibility that was denied by the NCAA. "But when we both knew that we weren't going to play, we definitely bonded through that. We're excited. We're both in the same boat. We both can't wait to get out there."
They're not the only ones. Offensive line coach Tim Grunhard, who coached McCay in high school, recently said he felt as if he were preparing to watch his own son take the field for the first time. And McCay said being out there with Grunhard would make the experience even more special given the fact that he always considered the former Kansas City Chiefs center a part of his family.
In some ways, McCay's wait for Saturday night has been one you can put a number on. It has been 614 days since he last took the field in uniform hoping he might play. In others, it's a moment he has been waiting for since he first fell in love with the game he now says he could not live without.
When his third-grade teacher asked her class who thought they had what it took to play football for a living one day, McCay wasted no time in raising his hand.
"That was me," he said. "I don't want to be a judge or a police officer. I want to play football. These are my dreams. I say I was born to do this. That's just how I feel about football. Without football, I don't know what I'd be doing.... I'm excited right now, but on Saturday the roof will be off."