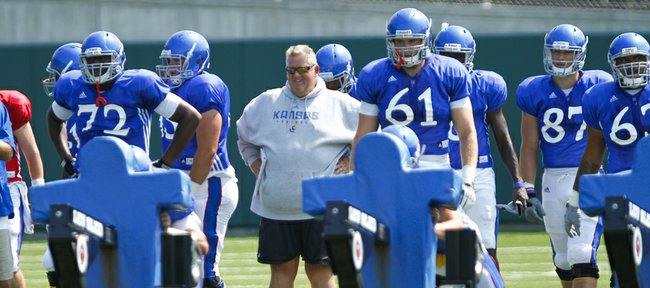 Saturday afternoon, as Kansas University football coach Charlie Weis sat restlessly and watched the rest of the college football world open its season a week earlier than the Jayhawks, he had one simple goal.
"I was focused on trying to get at least a little bit of TV viewing on as many different teams that we're gonna play this year as I possibly could," KU's second-year coach said in Monday morning's Big 12 coaches teleconference.
With most of KU's Big 12 Conference foes, the games were readily available on cable television. But there was one opponent — South Dakota — that Weis had to go the extra mile to watch live. The Coyotes will come to Memorial Stadium at 6 p.m. Saturday for KU's season opener. And thanks to the Internet, Weis was able to see USD's entire 10-7 victory over UC-Davis.
"I ordered it online from Coyote Network, trust me," Weis said of the game he paid $10 to watch online. "I sat there with my TV on, I had my computer on and I watched that whole game, as well."
In some ways, seeing fresh film on an opponent he and his staff had scouted throughout the offseason gave Weis an extra shot of adrenaline.
"With the way television and technology is today, you pretty much have a chance of watching any and every game you want to," Weis said. "The question is, how much are you really getting from watching TV copy? You can't see everything that's happening. You might see the front and not see the coverage. You might see the interior offensive line and not see the wide receivers. When you're watching it, you can't pick everything up. But I think any time you're watching a game there's gonna be something that happens or something that's said that you're gonna pay attention to that you take either physical notes or mental notes of to get you ready to play."
Weis did not divulge the details of his notes, but did say that he expected the outcome gave USD an extra dose of confidence.
"They're coming off a similar season to us," Weis said of the Coyotes, who finished 1-10 in 2012. "And having early success in their opener gives them a little bit of a jump-start on us. It's always a concern when a team's already got a game to iron out some kinks. The second game's usually gonna be better than the first one."
Upsets no surprise
Several FCS teams pulled off Week 1 upsets last weekend, with two of them taking place in the Big 12, as Northern Iowa knocked off Iowa State and North Dakota State upended Kansas State.
Although the victories by the underdogs grabbed Weis' attention, he said he was not shocked by the outcomes.
"I think too many times people underestimate preparation," Weis said. "Watching those teams win was not a big surprise. There's a lot of good football coaches out there and there's a lot of good football players. And time is a great equalizer. Any time you have that much time to prepare for an opponent, I think you'd better be ready because anyone can win in a game like that."
That was the message Weis and his coaching staff shared with the players on Sunday as they began game-week preparations for South Dakota.
"Oh, we had a team meeting (Sunday) and that was the first rattle out of my mouth," Weis said. "'Did you watch these games fellas? You see what's going on out there? This is what happens. If you think you're just going to show up and just roll over people, it just doesn't work that way.' Because we didn't play, it was a great teaching tool."
Rice looked nice
Outside of Owls fans, Weis may have been one of the only people in the country more interested in how KU's Week 2 opponent Rice looked than the team it played in Saturday's opener.
"Everyone wanted to talk about the (Texas A&M;) quarterback (Johnny Manziel) and what's gonna happen there and I just was interested in watching Rice," Weis said. "I thought, offensively, they were pretty impressive. They took it to 'em really wire to wire."
USD kicker honored
South Dakota freshman Miles Bergner was named the Missouri Valley Football Conference special teams player of the week for his role in the Coyotes' season-opening victory. Bergner made a 39-yard field goal that broke a 7-all tie with 7:31 left in the game and also placed all five of his punts inside the UC-Davis 25-yard line. The Longmont, Colo., native also averaged 62 yards on three kickoffs and had one touchback and one special teams tackle.
More like this story on KUsports.com