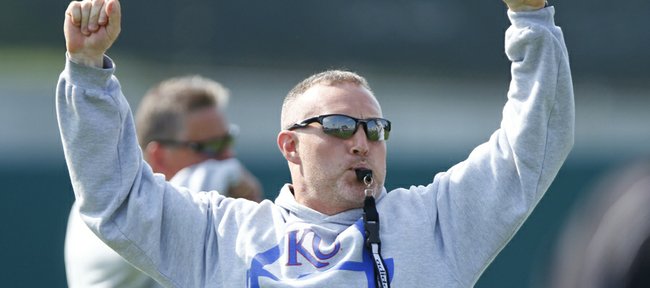 The rules of the weight room ruled by Scott Holsopple, Kansas University football's strength and conditioning coach, don't all have to be written down.
"Obviously," Holsopple said when asked to name some rules, "there's no hats, no earrings, no cell phones, no yawning, no sitting, anything that represents anything that looks lazy.
"You're always on the lookout for it. Whether a guy just got done working hard and he's getting ready to lean on a piece of equipment, you yell at him for that. 'I just got done working hard.' 'Still looks lazy. Ten more pushups.' You're always on top of them. It's important they know they're always being watched."
His office extends well beyond the weight room and in a very real sense lies in the minds of every player. He's every player's mental interior decorator and his goal is to put each athlete in charge of his own and every teammate's mental approach.
Slaying selfishness
Every lift, run, conversation is aimed at arming the athlete so that he can fight his toughest opponent.
"You're always fighting the human element," Holsopple said. "The human element is to be selfish, is to be an individualist. It's all about me and I, not us and we. It's a continuous process. It never ends."
The body can expand, but if the mind doesn't, the body's growth ceiling is limited.
"If you're required to be somewhere every day and you work, you're going to grow," he said. "That's what your body does. It adapts. Your mind doesn't. That's by far the hardest thing to do: change attitudes."
Holsopple illustrated an example of how he might challenge a player's attitude. He cites two players from the same position group. One shows up at noon for an optional workout, the other at 1 p.m. He challenges the player who shows up at noon with a series of questions: "Why didn't you come in together? If you're coming in at noon, why didn't you text him: 'I'm coming in at noon. Can you come in at noon?'"
His job is all about team-building and bodybuilding is just one aspect of it.
"The greatest mystery in team sports is taking out the unselfishness in it," he said. "Believe in something that's greater than yourself. In turn, it makes yourself better than you could ever be by yourself."
It's always a good sign when an athlete repeats a coach's philosophy in his own words.
Running back easily is KU's deepest position and therefore the one at which selfishness is at greatest risk of polluting the chemistry. The plan calls for James Sims to get the most carries. Darrian Miller is back in the program, which won't make it any easier for talented senior Taylor Cox to get carries.
"It feels good when we see another guy make a big play because he plays for KU," Cox said. "You see a guy make a run and you say, 'Wow, that was good. I need to make a run.' It definitely pushes you."
Mr. Uncomfortable
Call him Mr. Uncomfortable. Holsopple is the human antithesis of those heated benches the Texas football program brings on the road for games played in subtropical temperatures.
Holsopple wears one title, but so many hats for the program. He is part scientist, part caveman, at once a drill sergeant and a confessor, a preventative health-care practitioner and a man responsible for motivating young men to push their bodies to their limits.
His job involves heightening players' expectations of themselves. In doing so, he makes players uncomfortable to a degree that they tend to become comfortable tackling whatever challenges a game can present.
He doesn't ask them to do anything other than what he does. Holsopple's uniform — sweat pants and a hooded sweatshirt — never changes, even if the thermometer does.
He looks a little puzzled to see so many puzzled faces asking him about his wardrobe.
"If it's negative-10 in Milwaukee or the heat index is through the roof in Florida, same thing," Holsopple said.
But doesn't it feel uncomfortable?
"Does it feel the same as laying on the beach with a nice cold lemonade, no," he said. "But I don't think there's anything wrong with feeling uncomfortable. I think you should feel uncomfortable. It keeps you driving forward."
Promising freshman quarterback Montell Cozart from Bishop Miege High said he gained 12 pounds during the summer under Holsopple's watch. He also has gained a great deal of respect for the man who helped him on the road to a bigger body.
"This summer it was 107 degrees and he still had the same outfit, came out with sweats on," Cozart said. "It's definitely a mental thing. We'd come outside saying, 'It's hot,' and he'd say, 'What are you talking about? It's freezing out here.' He has definitely been a great person for me to look up to during this process."
During summer conditioning and winter workout portions of the schedule, nobody is more important to a college football program, particularly one that has to develop minds and bodies to compete against athletes who graduated high school with larger, faster bodies and more famous suitors. To hear Holsopple talk about his role is to realize the most important thing he gains from athletes is their trust and then it all sprouts from there.
"It's just to keep the mindset we tried to create throughout the winter and throughout spring football," he said of his role this time of year. "... Training camp gets hard, gets mentally challenging. It gets physically challenging. So you try to be in their corner, pushing them through everything, not letting them forget everything else we've worked up to to this point. That's No. 1, from the mental side of it. Then you've got the physical side of it where you're just trying to maintain strength levels, trying to keep guys as healthy as you possibly can, keep them in the greatest situation that they can to become the best players they can be."
From the physical side, he has helped left tackle Aslam Sterling to shrink his body and All-America-candidate running back James Sims to get sleeker, faster, more well-conditioned.
Mind first
It's when he talks about the mind that Holsopple is most interesting.
"The body is only going to go as hard as what the mind lets it," he said. "People say workouts are hard. Workouts are only as hard as what you let them be. I always say a 12-year-old can train. Do pushups. I'll do as many as I could until I couldn't do anymore. That's just the way it is when you get guys who are more able to understand that. Then you get guys that the workouts become harder because they're willing to accept it. That goes back to guys wanting to get better."
Holsopple keeps a close eye on body language to measure the mental and physical health of the players.
"Safety takes precedence over everything else," he said. "That's always something you have to watch. And you know any orthopedic concerns a guy might have and having a good relationship with your players, understanding what they look like and their facial expressions (is important). Understanding, 'OK, this guy's not feeling right,' or maybe it's something mental, physical, spiritual, emotional going on with him that you need to understand. It's just about being around your guys and understanding them."
Holsopple won't ever stop trying to help players improve. It's an endless job, but for the next few months, Charlie Weis and his assistants take center stage, figuring out how to align the improved bodies and less selfish minds in such a way as to gain favorable matchups. The better Holsopple does his job, the better shot he gives the rest of the coaches at accomplishing their ambitious goal of turning Kansas into a winning program.