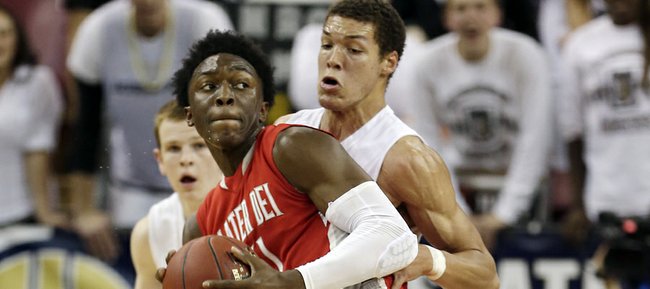 Basketball recruiting notes. ...
At least two high school blue-chip basketball prospects who have Kansas University on their list of prospective colleges figure to jump in Rivals.com's updated rankings, to be released this week, analyst Eric Bossi reports.
They are: No. 8-rated Stanley Johnson, a 6-foot-7 senior forward from Mater Dei High in Santa Ana, Calif., who is considering KU, UCLA, USC, Kentucky, Oregon, Florida and Arizona, and No. 19 Kelly Oubre, 6-7 senior forward from Findlay Prep in Henderson, Nev., who is considering KU, Kentucky, Florida, UConn, Louisville, Oregon, UNLV and Georgetown.
Oubre will visit KU for the Oct. 4 Late Night in the Phog. Johnson's dad informed JayhawkSlant.com his son will visit KU at a still-to-be-determined date.
"No matter how you look at rankings, Johnson deserves a move up. Whether you place more value on potential, production or achievement, the beastly 6-foot-7 wing rates high in all areas," Bossi writes at rivals.com. "He is a proven winner. He has improved and added to his game every step of the way and he doesn't look like he's stopping. He's a lock to move into at least the national top five."
Recruiting analyst Dave Telep believes Johnson will also improve on his ESPN.com No. 12 ranking.
"Johnson's game, frame and subsequent success make him a must-have in the national top 10," Telep writes. "He answered any question college coaches might have (in summer AAU events) and elevated himself to the point where you can expect him to be the best player on his team as a college freshman, depending on the team's roster. In short, he's not going to be playing in college for very long."
Of Oubre, Bossi writes: "A native of Houston who is headed to Findlay Prep, Oubre started to take off during June and, except for a shooting slump at the Peach Jam in July, he has been electric at every stop."
Packages: Johnson has apparently been talking to Justise Winslow about possibly attending the same school. No. 16-rated Winslow, a 6-6 senior forward from St. John's High in Houston, and Johnson are both being recruited by KU, USC, UCLA, Kentucky, Florida and Arizona..
One other possible package deal in the class involves No. 1 Jahlil Okafor and No. 2 Tyus Jones, who are visiting Baylor this weekend. They both are being recruited by KU, Duke, Kentucky, Michigan State and Ohio State.
Okafor and Jones will visit KU together on Oct. 18 and Duke on Oct. 25. CBSsports.com reports the two will visit Kentucky separately, while Okafor will also visit Arizona with unofficial trips to Illinois, Michigan State and Ohio State. Jones has visited Minnesota unofficially.
Some analysts insist the two will ultimately choose Duke.
"It's disappointing. It's taking the fun out of the process for the two boys," Okafor's father, Chukwudi Okafor, told ESPN.com, referring to the Duke rumors. "That's a shame. Let the kids go through the process. I just want them to enjoy it, not the media, not Twitter, not the coaches, not the AAU coaches. Those kids are highly intelligent. They know what to do. Let it play out, and I think the world is in for something special."
ESPN has also reported that Jones and Okafor have spoken with Winslow about attending the same college.
"I'm going to do what's best for me and my family," Winslow told ESPN.com.
Alexander update: No. 4-ranked Cliff Alexander, a 6-8 forward from Chicago's Curie High, who will visit KU for the Oct. 4 Late Night in the Phog, recently made an official visit to DePaul. He also is planning trips to Louisville, Arizona and Memphis. Kentucky and Michigan State also remain on his list.
DePaul is a serious player, Curie coach Mike Oliver told the Lexington Herald-Leader.
"That's something that he and his mom have talked about," Oliver told the Herald-Leader. "They figure he's a one-and-done, or at most two years. So they figure if they can get a good situation in the state of Illinois, or especially in Chicago, that would be something they would consider."
Alexander has made unofficial visits to KU, Kentucky and Michigan State. He'll be back to Lawrence for the Oct. 4 Late Night.
Some analysts believe KU leads for Alexander.
"They say he's going to Kansas because the girl he dates goes to Kansas," Oliver said told the Herald-Leader. "People are always spouting rumors."
Alexander's AAU coach, Nick Irvin of Mac Irvin Fire, told JayhawkSlant.com he sees, "Cliff as being a one-and-done player. Wherever he goes, that school is only going to have him two semesters, and then he's gone. Cliff is the type of guy that will get a team to the Final Four. He's the type of guy that can win you a national championship and I believe that to be true. I'm pretty sure the coaches that are recruiting him feel the same way," he added. "Cliff is just that type of force."
More like this story on KUsports.com