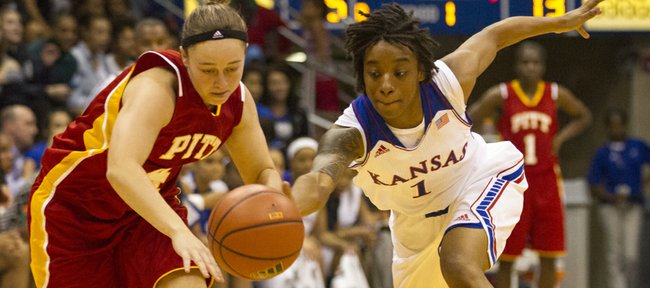 Sure, it's only one preseason game for the Kansas women's basketball team, played in October no less.
But if the flashes that KU point guard Lamaria Cole showed in Wednesday's 85-54 exhibition victory continue, the transition from the Angel Goodrich era might be a whole lot smoother for the Jayhawks than anyone imagined.
In her first start, the 5-foot-6 sophomore Cole dazzled with 12 points (6-for-11 shooting) and three assists to go with three turnovers in 26 minutes.
"She has the speed and athleticism that we need in this league to be successful," KU coach Bonnie Henrickson said. "It's just about her managing the team as a point guard."
Keep in mind that Cole played a combined 45 minutes in the entire 34-game season a year ago. Not only that, she averaged a turnover for every three minutes she was on the floor.
There were few signs of that wild player on Wednesday. Cole not only played under control before halftime — she had no turnovers in 11 first-half minutes — she also impressed with multiple drives to the lane, using her quickness to create separation before finishing with her right hand, left hand and sometimes while floating away from the bucket.
"Man, she's fast. Boy, she's really fast," Pitt State coach Lane Lord said. " … I thought she took care of the ball very well. She hit the open jumpers and found her teammates in transition."
Cole's standout play in the second half came at the 16:05 mark, as she raced up the court after a defensive stop, faked left with a big step before cutting back right to put in a layup over a crossed-up Pitt State defender. Afterwards, she even allowed herself to give a scream toward the crowd.
"I was really fired up about it. My team had me fired up, too," Cole said. "Just making a layup and causing a timeout, we had to be doing something right."
There were still a few times Henrickson had to yell out to her new floor-leader, pushing both of her palms down to send a clear message: Settle down.
"I see (that) a lot, but I don't think she did it as much today," Cole said with a laugh.
The point guard wasn't KU's only highlight. Asia Boyd — a 6-1 junior who also has never started a regular-season game — showed jump-shooting touch and also a quick first step for drives. She led KU with 11 first-half points before ending with 15 on 5-for-7 shooting.
"I think I'm way better at pulling up, and knowing when to go and when not to go, when to pass and when not to pass," Boyd said. "It's all coming."
Henrickson also had talked about wanting Chelsea Gardner to be her team's go-to player, and the junior showed signs of developing into that while showcasing an array of up-and-under moves in the post. The 6-foot-3 forward put in a team-high 18 points and 11 rebounds, registering a double-double before the 12-minute media timeout in the second half.
Freshman Dakota Gonzalez added 12 points off the bench on 5-for-8 shooting, while CeCe Harper also hit double-figure scoring (10) with three assists.
KU never trailed, starting the game on an 8-0 run — with half those points coming on twisting layups from Cole.
The Jayhawks will finish exhibition play against Emporia State at 2 p.m. Sunday.
More like this story on KUsports.com