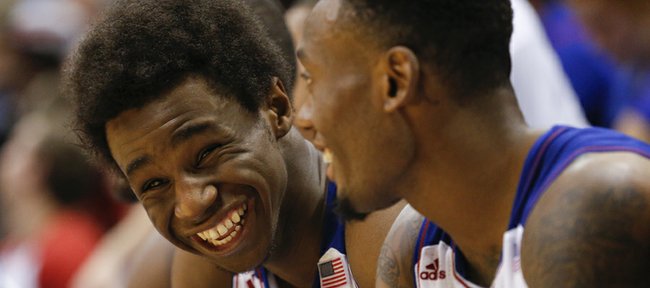 Photo Gallery
KU basketball v. Pittsburg State (exhibition)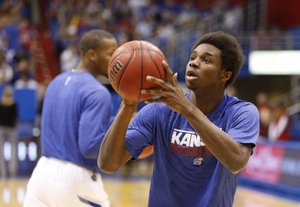 Images from Tuesday night's exhibition basketball game against Pittsburg State
Podcast episode
Kansas coach Bill Self talks to reporters following the Jayhawks' 97-57 exhibition victory over Pitt State on Oct. 29, 2013.
Podcast episode
Kansas' Perry Ellis, Andrew White III and Naadir Tharpe talk to reporters following the Jayhawks' 97-57 exhibition victory over Pitt State on Oct. 29, 2013.
Box score
Like seemingly everyone on the planet, Pittsburg State men's basketball coach Kevin Muff entered Tuesday's exhibition game at Allen Fieldhouse fully aware of the talent and potential possessed by Kansas University freshman Andrew Wiggins.
But even armed with the knowledge of how explosive Wiggins could be, the fourth-year Gorillas head man was not surprised when KU's latest phenom got off to a less-than-stellar start in his Kansas debut.
"I kind of half expected that," said Muff following his team's 97-57 loss to Kansas. "I mean, he's 18-19 years old, you see your face out there and you get all the media hype behind you, it's hard to come out and (be great). But I think you saw glimpses of what he's capable of and what a tough match-up (he is)."
Wiggins finished with 16 points on 5-of-13 shooting but did not look fully comfortable nor nearly as aggressive as he does in all of those highlight videos that have been lighting up Lawrence IP addresses since he committed to Kansas last May. According to Muff, that's what playing in front of 16,300 rabid fans can do to a guy who, regardless of his unlimited potential, still was making his first ever appearance in a college basketball game.
"That was the first thing we said in our pregame talk: 'Hey, the majority of the players they've got out on the floor played high school basketball last year,'" Muff said. "Yeah, they've got some AAU experience and McDonald's All-American experience playing against better competition, but they (were) high school players last year and the adjustment to college basketball's not easy."
Because of that, Muff wanted his guys to make life as tough as possible on Wiggins from the start and avoid allowing him to get in the flow with high-flying, highlight-reel finishes at the rim.
"We wanted to make him a jump-shooter," Muff said. "Not let him get to the basket and get that right-handed reverse, left-handed spin in the middle, go up and hammer one."
For 16 minutes of the first half, with nerves wreaking havoc on KU's young roster, Pitt State battled with KU inside and out. The Jayhawks did not gain the separation shown in the final score until the final few minutes of the first half, when a 14-4 run turned a 36-28 KU lead into a 50-32 halftime edge.
Pitt State guard Jake Bullard, who played a team-high 34 minutes, said KU's never-ending bench played a big part in the run.
"They've got a lot of depth," Bullard said. "They're bringing guys in and out and it was tough playing against a fresh guy every four minutes."
The Jayhawks outscored the Gorillas 47-25 in the second half and Wiggins, who threw down an eye-opening alley-oop dunk in the first half, looked smoother throughout the final 20 minutes.
"It's a 6-8 guard who can put it on the floor and shoot it," Muff said of Wiggins. "We start 6-5 and above on the perimeter and that's pretty big, but look at them. They dwarfed us. It's an impressive level of talent and they'll continue to get better and better. Hopefully we gave them what they needed tonight."
More like this story on KUsports.com