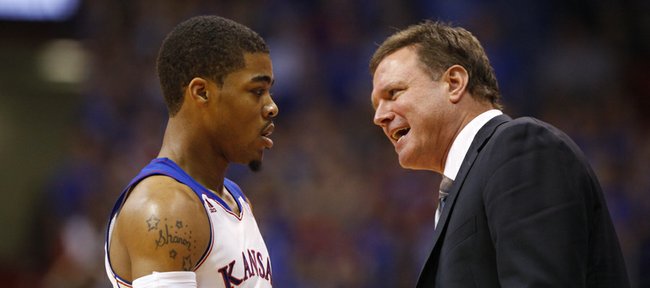 Photo Gallery
KU basketball v. Pittsburg State (exhibition)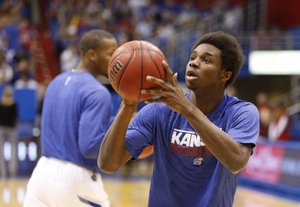 Images from Tuesday night's exhibition basketball game against Pittsburg State
Podcast episode
Kansas coach Bill Self talks to reporters following the Jayhawks' 97-57 exhibition victory over Pitt State on Oct. 29, 2013.
Podcast episode
Kansas' Perry Ellis, Andrew White III and Naadir Tharpe talk to reporters following the Jayhawks' 97-57 exhibition victory over Pitt State on Oct. 29, 2013.
Box score
One of the more enjoyable guessing games to follow this college basketball preseason, here in the middle of the college football season, has centered on which player or players will sit out the year as a redshirt.
Here's a guess you don't often hear, but could be the best idea of all: nobody.
Andrew White III appeared the smartest guess before the first practice, but it's evident he did everything a player can do to improve himself since Michigan bounced Kansas from the NCAA Tournament in the Sweet 16.
White played just 125 minutes as a freshman. His extended stays on the bench did nothing to sour his attitude toward wearing a Kansas uniform. He knew he had to make himself better and that's what he did. He earned a spot in the season-opening rotation.
So scratch the idea of red-shirting a player in his second season the way Brady Morningstar and Travis Releford did.
That leaves the freshmen as red-shirt candidates. Even if Frank Mason were not starting the season-opener against Louisiana-Monroe because Naadir Tharpe will serve a one-game suspension for playing in a summer game in Chicago, he wouldn't be a candidate. His point guard play at both ends will be needed to back up Tharpe.
That leaves Conner Frankamp and Brannen Greene. Greene's too talented, even if he doesn't yet play the sort of defense that will get him serious playing time. He's the sort of sniper who could come in off the bench when the team is going through a drought, score nine points in three minutes and turn Allen Fieldhouse into a madhouse.
He knows how to keep his head up on offense and if he can train himself to keep his butt down on defense somewhere along the way, he could earn serious minutes. He'll be more motivated to do so if he's not asked to sit out the year in hopes of getting a fifth year out of him. What if he's so good after three years that he bolts for the NBA anyway? Looking back, that one or two games he could have turned from a loss into a victory as a freshman would sting all the more.
Frankamp had a rough night at both ends in Tuesday night's exhibition opener, a sloppy 97-57 victory against Pittsburg State, the Nebraska of Div. II in that it's a football school first. Frankamp missed all three of his three-point attempts and committed three fouls. In high school, there was no such thing as a bad shot for Frankamp, a terrific sniper. It's not unusual for a player with his background to get worse before he becomes better as he learns that a guarded three from the right corner is a bad shot and then wonders if a good shot also is a bad one.
If Frankamp is open to red-shirting, Kansas shouldn't have any trouble getting past Louisiana Monroe without him backing up Mason, but if he would rather take a shot at improving enough to crack the rotation, no harm in that.
More like this story on KUsports.com