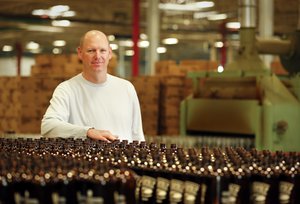 Photo Gallery
Chris Piper - 1988 KU basketball champion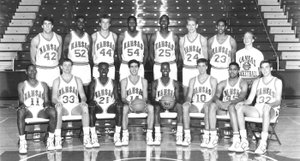 Kansas' 1988 men's basketball season photographs of Chris Piper.
Chris Piper graduated from Kansas University in May 1988 and by June he had bought his first business, a small T-shirt printing company.
Maybe when you're still full of adrenaline from winning the 1988 NCAA Basketball Championship, you move at a fast pace. Piper was on the championship team dubbed "Danny and the Miracles."
Piper, a forward who averaged 5 points a game, was never confused for Danny Manning, so he must have been one of the Miracles.
He was set to prove it in the business world.
"I had a great plan. I thought I could pay for our debt by doing the T-shirts for Late Night with Larry Brown," Piper said, referring to the popular season-opening late night practice that Brown made into a KU tradition. "Then Larry decided he was going to San Antonio."
So, just a few months into his first business venture, Piper learned there was at least one miracle he couldn't pull off: A business plan based on Brown, who has changed jobs 13 times, staying in one place.
•••
Hard to believe, but it's been 25 years since that magical season. One thing hasn't changed. Piper still can legitimately chant "We're No. 1," although it will sound a bit different these days.
Piper's three-person T-shirt company has evolved into Grandstand Sportswear and Glassware, a company that may be under the radar for some Lawrence residents.
It shouldn't be. These days the company is a powerhouse in the world of microbreweries. So far this year the company has produced 1.3 million amber glass growlers — the big, brown jugs that patrons of breweries such as Free State Brewing Co. use to tote beer home.
And yes, if he wanted to, Piper could break out the "We're No. 1" chant about it. Grandstand is the largest producer of the amber glass growlers in the country. And while the city may not throw a parade on Massachusetts Street for the accomplishment, local leaders ought to care. As it has risen to No. 1, the company has grown from three employees in 1988 to 104 today.
"We have grown at 45 percent a year for the last four years, and we see another 45 percent this year," Piper said. "To be honest, it has caught us a little bit by surprise. For the last two months, we've been running three shifts, seven days a week to keep up."
The company moved out of a 30,000-square-foot space on Haskell Avenue in 2011 and into a 150,000-square-foot space in the East Hills Business Park. At the time, Piper thought he might have to lease out part of the building, which used to house equipment manufacturer Sauer-Danfoss. Now, there are no such worries about filling the space.
"Right now, our big concern again is space," Piper said. "Look at us, we're jammed in here."
Most of the building is filled with pallet after pallet of growlers and beer glasses. Grandstand doesn't manufacture either product, but rather prints company logos on the glassware. One corner of the building is still devoted to screen printing for apparel, mainly T-shirts for breweries.
Piper had never thought about providing growlers and glassware for the brewery market until Lawrence's Free State Brewery asked him whether the company could print the brewery's logo on a jug in the early 1990s. Piper figured they could, and suddenly he found himself a player in a microbrewery industry that was ready to grow.
Since then, the growth of Grandstand has been like an Allen Fieldhouse fast break: quick, exciting and filled with good timing.
"What has happened with the microbreweries is they've taken advantage of a shifting demographic with consumers," said Piper, a business major at KU. "It is local, it is organic, it embraces the idea of craftsmanship. Those are all big things with consumers. The growth has just been huge."
Huge is an adjective anybody who's been a part of the Kansas basketball program had better get used to: huge expectations, huge interest, huge history. Piper said he's never tried to compare the thrill of playing for the Jayhawks with the thrill of running a growing business, but the two do sometimes produce some of the same pressures.
"We've had four or five competitors come in now who are definitely trying to copy us," Piper said. "We have a big bulls eye on our chest right now. I've found that I still get real competitive. If somebody starts targeting us, I like to come right back at them.
"At Kansas, we always took pride in the idea that people really wanted to beat you. That's a challenge that you embrace."
•••
Piper still gets autograph requests 25 years after that final Kemper Arena Victory. Most of the time, the requests cause him to laugh a bit to himself.
"I always like the ones where a young kid gets shoved up by their parent to get an autograph," Piper said. "I'm like 'You don't even know who I am.'"
These days, Piper doesn't do much to educate people about who he used to be, either. The business doesn't really use Piper's connection to KU basketball in its marketing.
"I don't know that I've ever gained any business from being part of the championship team, but I probably have had doors opened for me," Piper said.
But now — it has been 25 years after all — the topic rarely comes up, he said.
"Pretty much everybody who works out here probably wasn't even born in '88," Piper said.
Piper was a recognizable face in KU basketball, however, long after his playing days ended. He took a part-time job as a color commentator for the Jayhawk basketball television network just a couple years after graduation.
"Roy Williams wanted to have a KU guy doing the Jayhawk network, and I think I was the only one around not playing basketball," Piper said. "I was petrified."
He got over it though, doing 15 years of television work before being named the replacement for legendary broadcaster Max Falkenstien on the radio network. Piper was behind the microphone when KU won the National Championship in 2008 — the first since 1988.
But before last season, Piper left the radio position to concentrate on Grandstand and his family.
"The sheer volume of games when it turns to league play and to the tournament, it got to be overwhelming," Piper said. "Don't get me wrong, it would be great if that is all you did. But when you come home to a family and to a business, it can be tough."
But don't think that Piper has turned his back on basketball. You don't have to look too hard at Grandstand's facility to see a sign that he's still into the game. A corner of the plant houses a 50-foot-by-100-foot basketball gym.

Employees use the gym during breaks and Piper, who has three school-aged children, uses the gym for their youth teams. His oldest daughter, Madison, is a freshman at Free State High, and basketball observers in the community say she is quite a talent.
Piper noted that the Free State High newspaper did a short piece on her.
"She had a quote where she said I was a terrible shooter," Piper said. "We may have to go down to the gym to settle that."
It would be interesting to see who comes out on top. Madison may have a chance. The KU record books show Piper shot less than 50 percent — barely — for his career.
But who knows? It is a Lawrence court, and Piper has done awfully well on those: part of a national championship team, announcing for another one, growing a nationally recognized business nearly from scratch.

"I don't know that the one win in 1988 changed my life so much, but the opportunity to play for KU sure did," Piper said. "I've been very fortunate. Great group of friends who steered me toward basketball. Coach Brown giving me a chance. An unbelievable opportunity to play with the best player, and then to have success in business. There wasn't any grand design there on my part."
But there has been something. Watch out if he ever figures out how to bottle it.
— Each Sunday, Lawhorn's Lawrence focuses on the people, places or past of Lawrence and the surrounding area. If you have a story idea, send it to Chad at clawhorn@ljworld.com.
More like this story on KUsports.com