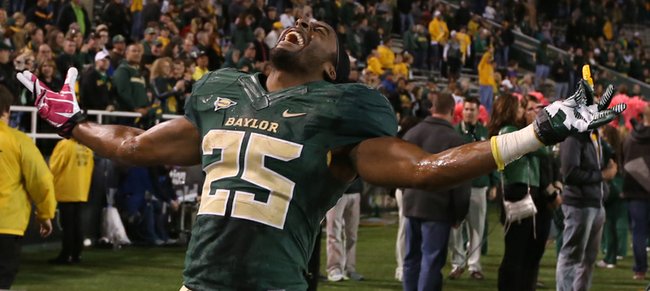 Big numbers
Baylor leads the nation in the following offensive categories:
Total Offense — 714.3 yards per game
Scoring Offense — 64.7 points per game
Passing Efficiency — 213.22 team passer rating
Yards per Completion — 19.41
Yards per Play — 9.06
Fewest three-and-outs — 5
Fewest Punts — 16
Touchdown percentage — 58.3 percent of drives
Baylor features the Big 12 leader in the following categories:
Passing Efficiency — QB Bryce Petty, 221.8
Completion Percentage — QB Bryce Petty, 70.8 percent
Passing Yards — QB Bryce Petty, 337.2 per game
Passing TDs — QB Bryce Petty, 15
All-Purpose Yards — WR Antwan Goodley, 142.67 per game
Receiving Yards — WR Antwan Goodley, 141.8 per game
Receiving TDs — WR Antwan Goodley, 8
Rushing Yards — RB Lache Seastrunk, 126.7 per game
Rushing TDs — RB Lache Seastrunk, 10
100-yard Rushing Games — RB Lache Seastrunk, 5
With sixth-ranked Baylor and its 714 yards and 65 points-per-game averages in Lawrence for a 6 p.m. kickoff against Kansas University, it's only natural to wonder if looking at BU's statistics or watching the film was a more trying experience for the Jayhawks this week.
Three weeks ago, asked about the Big 12 Conference in general, KU coach Charlie Weis called the Baylor offense "frightening."
Earlier this week, during KU's Tuesday news conferences, linebackers coach Clint Bowen, who coordinates the defense, said being asked to prepare for BU coach Art Briles' offense in one week could lead to nightmares.
Briles, who has worked with the same offensive coordinator for more than 20 years and had success from Texas' high school venues to the University of Houston and now the Big 12, has his own way to describe it.
"I saw Briles in the off-season," Weis said. "And I said, 'How do you call plays that fast? Really, how do you snap plays that fast?' He called it 'organized chaos.'"
So talented is the Baylor offense that an entire page of the Bears' weekly game notes — third from the front, no doubt for effect — is dedicated to the dozens of categories in which Baylor leads either the country or the Big 12.
A few of the highlights include: first in the country in total offense (714 yards), scoring offense (65 points), passing efficiency (213.22), yards per completion (19.41), yards per play (9.06), fewest three-and-outs (5) and fewest punts (16).
Baylor's offense also features the nation's leader in passing efficiency and passing yards per completion (quarterback Bryce Petty) and place kicker Aaron Jones, who has made an NCAA-best 155 consecutive extra points.
Beyond that, the Bears (6-0 overall, 3-0 Big 12) lead the Big 12 in 14 offensive categories and boast the conference's top rusher (Lache Seastrunk), passer (Petty) and top two receivers (Antwan Goodley and Tevin Reese). The Bears' ability to gain yards and score points makes them tough enough to game-plan against. The fact they do it all at a breakneck pace makes the task even more daunting.
"Their tempo is as fast as anybody's ever gone in the Big 12," Bowen said. "There comes a point where you can only go so fast, and I think they've gotten to that point."
The Jayhawks who spent hours watching Baylor torch opposing defenses and light up scoreboards this week during film sessions each seemed to have a different word or way to describe the offense they'll attempt to slow down tonight.
"Mind-boggling," cornerback Dexter McDonald said. "No doubt about it. Because you never know what to expect. It's unbelievable some of the stuff they do and how they put these points on the board."
Added linebacker Jake Love: "They're very efficient. They put up about 70 points a game, so you're kind of in awe. But we just try to focus in on what we're trying to take away and how we can do that the best."
That's where the film work has come in handy. Rather than fear what they saw, McDonald and fellow-cornerback JaCorey Shepherd both said the impressive film clips of Baylor's high-powered offensive machine made them excited for the opportunity to prove their own skills.
"It's definitely something that you hate seeing because you know it's capable of happening," McDonald said. "But I think it's something you should watch over and over again. For me, I'm looking at it like, 'Oh, wow, I wouldn't have made that mistake,' or, 'Wow, I want to face this guy.' I'm a competitor, and I'm ready for any challenge."
Added Shepherd: "I don't get psyched out at all watching film. I'm ready for the opportunity to go against some receivers and an offense like this that's the top in the country. I'm ready. Just all the talent they have. They're very explosive, and any player, any time could take it to the house if you're not doing your job."
The one thing the Jayhawks (2-4, 0-3) will not do? Try to top Baylor at its own game.
"A donkey's never gonna win the Kentucky Derby, and you can't ask him to," Bowen said. "So you gotta be smart with what you're doing and how you play things. There are ways to play wideouts without getting into a foot race with 'em."
Gentlemen, start your engines.