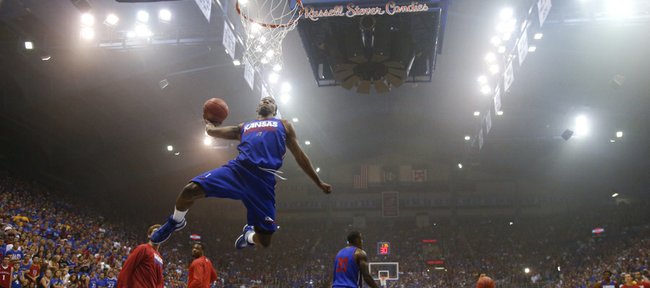 Next time you leave Allen Fieldhouse, try to make your ear zero in on the name Wayne Selden. Here are words I predict you won't hear: "Potential." "Flashes." "As soon as he figures it out." "You can tell he's going to be really good."
Instead, you'll hear discussions about how hard he played, how good he was tonight, how many different things he did well that contributed to a victory.
Selden is all about right now, and that as much as anything is why he has such a bright basketball future.
A 6-foot-5, 230-pound freshman guard from the Roxbury neighborhood of Boston, Selden doesn't claim to know it all about the game he loves, but he does have this much figured out: The more effort you put into every possession, the more rapidly you improve.
Mike DeCourcy of The Sporting News, not a man given to hyperbole, wrote this about him after watching a Kansas basketball practice: "Selden is the hardest-practicing freshman I've encountered in more than a quarter-century on the college basketball beat."
I repeated that observation to Selden.
"Wow," he said. "That's great. That's great. I just feel like I have to push myself to the next limit and keep getting a level up every possession."
He played 18 minutes in the McDonald's All-American game, made five of seven field goals and totaled 13 points, five rebounds, three assists and one steal. He was second on the team in scoring to current teammate Andrew Wiggins (19 points).
Those two freshman join junior point guard Naadir Tharpe, senior center Tarik Black and sophomore forward Perry Ellis in the starting five for the Jayhawks.
A hard-driving slasher, Selden has a knack for finding the open man when most in the gym don't yet know he's open. He's built like Oklahoma State sophomore star guard Marcus Smart and in some respects plays a similar game. Smart plays point guard for the Cowboys, a position that would seem to be Selden's NBA destination.
"I just consider myself a guard," Selden said. "Whatever coach needs me to do is what I'm going to try to do to the best of my ability."
Selden could make any team in America better, with the exception of the Harlem Globetrotters. Style points don't interest him.
"My ball-handling's gotten a lot better," Selden said. "When I was younger, I used to dribble a lot. Then I went through a stage where I wasn't really on the ball a lot.
"I don't really do too many dribble moves. One move, two moves, go. I just like to contain the ball. I've never really needed a crazy handle on the ball. One dribble, swing it."
A player after his coach's heart.
If he's dribbling, it's with a purpose played out relentlessly. He tries to bring the same approach to defense every day in practice where he is surrounded by smaller and taller hard-to-guard athletes.
"This is the best gym I've ever been in," Selden said. "Everybody brings it every day. Andrew White brings it every day. Naadir's a leader every day. Black's going after balls every day. The whole team is night in and night out competing. So it's always good because the competition level is always high, and nobody is going to give anything to anybody easy."
One of the players Selden brings it to also has not played his first college possession yet has been on the cover of Sports Illustrated and was featured in GQ with a photo spread that includes him hanging shirtless from a netless rim. Does that make a competitor so driven as Selden want to bring it at Wiggins all the harder.
"No, definitely not," said Selden, who went 1-0 against Wiggins in a high school game and 1-0 in an AAU game, by Selden's count. "I want to go at him harder because I want all of us to get better, not because of all the accolades and stuff like that. I feel like he's on the cover of Sports Illustrated, so we're on the cover of Sports Illustrated. He has a Kansas jersey on. He's representing all of us."
So is Selden. Based on his effort in practice, he's doing a great job of it.
More like this story on KUsports.com