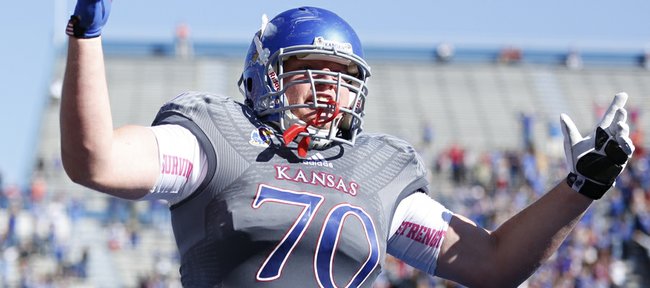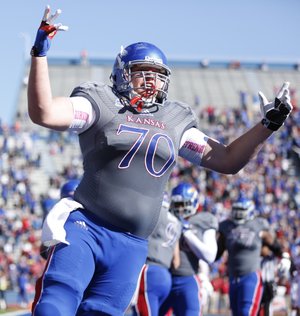 Shortly after he received word that he would become Kansas University's new starting center a few weeks ago, Gavin Howard texted his best friend to brag a little.
After a few minutes, Oklahoma State guard Brandon Webb wrote back to congratulate Howard on his rare accomplishment.
"That was my goal was to complete the cycle," Howard said with a laugh, "and I finally did it."
The "cycle" is exactly what one might think: After starting at center for KU in the last two weeks, Howard now has played every offensive-line position for KU in his career.
Here's the rundown: The fifth-year senior Howard played left tackle his sophomore year against Texas A&M;, left guard against Georgia Tech that same year, right guard against South Dakota State last year and also started six games at right tackle his junior season.
All along, the two friends thought Webb, who is shorter, eventually would move to center at OSU to complete his cycle first.
It never happened. Webb has stuck at left guard for OSU, while Howard received the unexpected text from line coach Tim Grunhard telling him he was the new starting center before a job interview with Koch Industries in Wichita.
"I always have played tackle in high school, and I always figured I'd play tackle in college," Howard said. "It's been fun. I really enjoy playing inside as well as outside."
The 6-foot-4, 300-pound Howard has always been known for his smarts. He graduated in May from KU with a degree in finance and math, and he estimates he has tutored 80 percent of the players on this year's roster.
Because the center is the one who directs the offensive line with different calls right before the snap — telling players whom they're going to block and how they're going to do it — Howard has been a natural fit with his intelligence and experience.
"I think the guys respect me," Howard said, "and trust me that I'm going to know what to do."
Howard believes the line will improve with more continuity.
He gave an example from last week's game against Oklahoma. The Sooners, who have been playing a three-man defensive front all season, shifted to a four-man front on a third-down play — something KU hadn't expected.
Howard said one word to right guard Mike Smithburg, and Smithburg knew he needed to block the man in front of him, while Howard would take a linebacker, and left guard Ngalu Fusimalohi would take defender in front of him.
"We might not have been able to do (that the previous week) against TCU," Howard said. "We didn't really face that exact situation, but stuff like that I think really helps."
Howard also has become a team favorite because of his transportation: a Kymco Agility moped. The Owasso, Okla., native says about a dozen teammates have driven the scooter, which he fills up with gas every two weeks for $3. He even plans out alternate routes to the Burge Union for breakfast to avoid hills that might be too steep.
"It's entertaining watching two 300-pound people on the back of a moped," Howard said, "but we do it, and it's a fun time for sure."