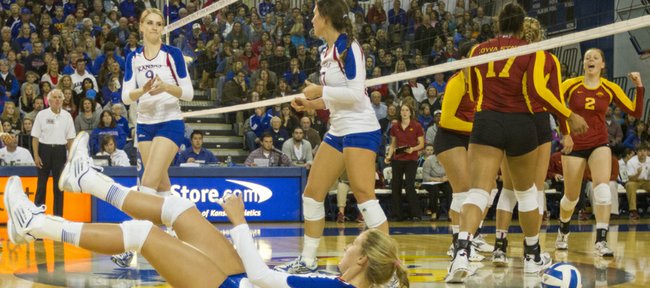 Kansas University's pep band blared the song "Sweet Caroline" on Wednesday night after the volleyball public address announcer informed 1,300 fans in sold-out Horejsi Center that fifth-year senior Caroline Jarmoc had just become the Jayhawks' all-time leader in blocks.
"How do you really react? I mean I'm not going to be like, 'Whoo!' going crazy," exclaimed the 6-foot-2 middle blocker from Calgary, Alberta, Canada, who was mobbed by her teammates during the break between the fourth and fifth set of KU's heartbreaking 3-2 loss (25-22, 21-25, 22-25, 25-16, 13-15) to Iowa State.
"I know my team is really happy for me. They were giving me high-fives and all that. It felt really nice," added Jarmoc, who had 16 kills in the defeat.
More importantly, she contributed six blocks, upping her career total to 516 rejections, two more than Amanda Reves, the former record holder who played at KU from 1996 to '99.
"I would have been like, 'We'll see about that. We've still got a lot of time,'" Jarmoc said, asked what she'd have said if somebody told her in her red-shirt year of 2009 she'd ultimately re-write the record books at KU. She's sixth all-time in kills with 1,209.
"I think just reading it in some type of publication (is when) it'll sink in a little bit," she added. "Especially the pictures (hanging) outside the locker room. If it goes up there, it'll kind of hit then."
She credited her parents.
"I wouldn't be here without them," she said of Zofia and Jacek Jarmoc, who were born and raised in Poland, giving Caroline dual citizenship in Canada and Poland. Her dad played basketball for the Warsaw Politechnic team and mom was a high jumper for Poland's women's national track team. "Being young, I was taught to work hard, grind it out," she added, "and the coaches I've had along the way; I've been blessed with amazing coaches."
KU coach Ray Bechard praised Jarmoc after a narrow defeat that dropped KU to 16-5 overall and 6-2 in the Big 12; ISU improved to 11-6, 5-2.
"It speaks volumes of her effort over four years at a very demanding position, middle blocking position," Bechard said. "The effort, energy it takes to play that position ... I'm very proud of her. The fact it came tonight against a good team I think is noteworthy too.
"She is a confident kid. She leads by example, obviously has been a great player for us. The last couple of years she really stepped it up to the next level."
Jarmoc only wishes the record could have come in a victory.
"Sometimes I'm so hard on myself. Sometimes coach B needs to remind me of the impact I've had on this team," Jarmoc said. "I am so happy I can bring all that and elevate this program to where it is now."
As far as Wednesday's contest, the Jayhawks felt as if they let one slip away. Tied 1-1, KU squandered a 16-8 lead in the third set; ISU closed on a 17-6 surge. The Cyclones busted a 13-13 tie in taking the final two points of the fifth set.
"I felt we had control through all the sets. The point runs they got on us ... we lost focus. That's what got us in the end," Jarmoc said.
"You can look at the fifth set and dissect all you want, but we shouldn't have been to that point," Bechard said. "You've got to close that out when you get that chance. Then you get to the fifth set and the volleyball gods take over. You've got great breaks going this way, breaks going that way and the ball didn't fall our way in the end."
Catherine Carmichael had 15 kills, while Chelsea Albers and Sara McClinton totaled 14 each. Albers contributed 23 digs. Freshman Tayler Soucie tied a career-high with 12 kills. Junior Erin McNorton had 60 assists and 11 digs.
KU now will take the weekend off before meeting Baylor on Wednesday in Horejsi Center.