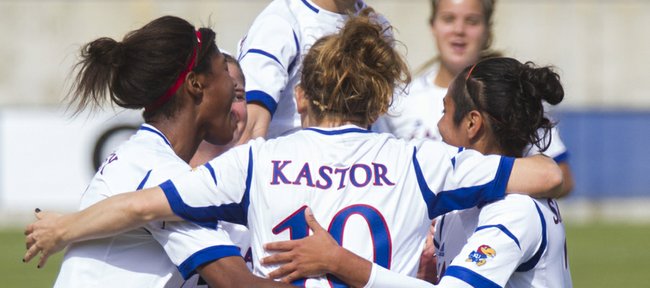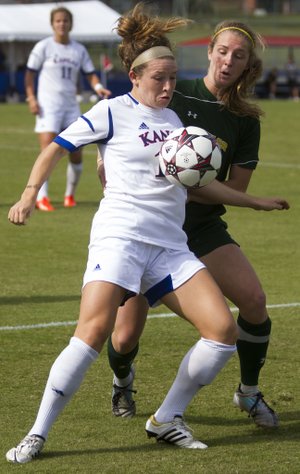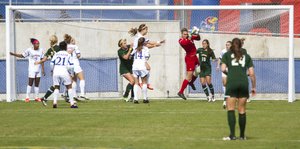 Finally, Kansas University soccer coach Mark Francis believes his team was able to catch a few breaks.
After going winless — and scoreless — in its first four Big 12 games, KU played well and received some good fortune in a 2-0 victory over No. 23 Baylor on Sunday at Jayhawk Soccer Complex.
"We just did a better job finishing some opportunities," Francis said. "Sometimes, a couple of things bounced our way that haven't been bouncing our way. But I also think you make your own luck.
"This could be a turning point for us."
KU's first goal wasn't a fluke, but it definitely was needed considering the team hadn't scored since September.
After a KU clear in the 11th minute, forward Liana Salazar started a quick counter-attack, splitting a pair of Baylor defenders with a creative pass that led teammate Caroline Kastor to midfield.
With lots of space in front of her, Kastor took two long dribbles to get a one-on-one with BU keeper Michelle Kloss, then beat her with a shot that rolled untouched into the right side of the net.
The goal ended a 408-minute scoreless streak for KU.
"Based on the fact that every player sprinted 100 yards to come celebrate explains it all," Kastor said with a smile. "There's obviously been a lot of pressure when we had a scoring drought. That felt great to just get a goal and kind of turn the tide."
KU had some good charm in the following minutes, as BU (8-5-3) tried to take advantage of a gusty wind from the southwest.
Off a free kick from near midfield in the 19th minute, Baylor's Kat Ludlow headed the ball into the net past KU keeper Kaitlyn Stroud, but the play was negated because of an offsides call by the linesman.
Just four minutes later, the Bears executed a nearly identical play. BU lofted a high free kick into the box, Ludlow headed it in past Stroud, and the same linesman brought the play back with a raised flag and offsides call — one BU's coaches yelled to dispute.
"Those things are things that in the last few weeks haven't gone our way," Francis said. "Maybe a kid's offside, but (we don't) get the call. Today, we did, and that's all part of the game. Obviously, the timing of those was pretty good for us."
Even with the wind in the second half, KU stayed in survival mode defensively, with BU maintaining most of the possession time while firing an array of shots that were either wide or stopped by Stroud (seven saves).
Kastor later sealed the victory in the 77th minute. Off a right-side cross from midfielder Jamie Fletcher, Kastor popped a touch up to herself just inside the 18-yard box, then spun to her right and in one motion tucked a twirling kick into the right side of the net.
"It's really cool to score some goals," Fletcher said, "and get some confidence back in our lives."
It was Kastor's first two-goal game in more than 13 months. She also scored twice against NC State on Sept. 9, 2012.
KU will play Friday at No. 15 Texas.
More like this story on KUsports.com