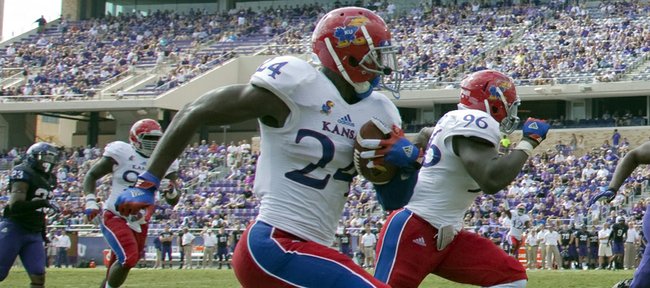 Aqib Talib did it when he played at Kansas University. Charles Gordon did it for the Jayhawks before him. And countless other talented college athletes have taken a stab at it throughout the history of college football.
Playing both ways at the college level is more demanding than in high school, but maybe it's time to consider giving junior cornerback JaCorey Shepherd a chance to do it as well.
"In the beginning, I did (think about it)," said Shepherd, a wide-receiver-turned-cornerback following Saturday's loss to Oklahoma. "But right now, I'm just trying to do what I can do (on defense). If coach was to ask me, I'd be more than willing to do it, but I'm not thinking about asking him about it."
The athletic and slippery 5-foot-11, 190-pound Shepherd is the only man on KU's roster who has multiple touchdown receptions in the same game on his résumé. And that, a two-TD effort in the 2011 season opener against McNeese State, came in Shepherd's first college game.
Working him in on both sides of the ball would come with some risk. Through six games of 2013 and barely a full year at his new position, Shepherd has emerged as one of the top defensive players on the Jayhawks' roster and one of the most productive cover corners in the Big 12. At this point, his value is as a starting cornerback, and it is magnified by KU's lack of proven depth behind him.
Because of that, Shepherd's focus remains fixed on improving there. But, given that he still has receiver blood flowing through his veins and admits that it took him awhile to get past the point of missing his old position, the junior from Mesquite, Texas, keeps an eye on what's happening with KU's passing offense. Saturday, after watching the Jayhawks throw for just 16 yards on 5-of-13 passing, Shepherd offered up his opinion of what went wrong.
"Like (KU) coach (Charlie) Weis says, I think it's a little bit of everything," said Shepherd, emphasizing that he's far from an expert because most of his attention goes to his job as a defender. "Sometimes it comes down to (quarterback) Jake (Heaps) just getting some time, sometimes it comes down to the throws Jake makes, and sometimes it comes down to the receivers going up and catching the ball. You can't really just point at one thing."
Sometimes, though, one thing is all it takes to inject life into a struggling offense. For proof of that, look no farther than the impact junior Tony Pierson has had on the Jayhawks' passing game this season — 21 receptions, 327 yards — and how dilapidated KU's aerial attack has been with Pierson sidelined for the last two games: 18 completions, 168 yards.
Here are the staggering numbers at KU's weakest position: Not counting Pierson or Brandon Bourbon, who both play KU's hybrid running back/receiver F spot, wide receivers have caught just 24 percent of the KU's completions (21 of 88) during the season's first six games.
Saturday, against Oklahoma, junior Justin McCay led KU's receivers with one reception for 10 yards. A week earlier, in a loss at TCU, junior Andrew Turzilli led the Jayhawks' receivers with one catch for 50 yards. And in the four games leading up to those, no Kansas wide receiver had hauled in more than two receptions in a game.
Could Shepherd help? Possibly. But if he were to get a look on offense again, the smart move would be to mix him in from time to time, not to take him away from the defense altogether.
"Because I played (wide receiver) most of my life, I'd still have some skills out there," Shepherd opined. "I'm not saying I'd go out there and be 100 percent. Just like at corner, the more I continue to play, the more I get better. But if I went out there, there wouldn't be much lost."
Exactly. What does the KU offense have to lose?