Photo Gallery
KU football v. Oklahoma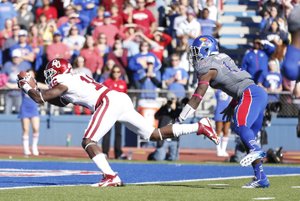 Images from Saturday's game against Oklahoma at Memorial Stadium.
Podcast episode
Kansas coach Charlie Weis talks to reporters following the Jayhawks' 34-19 loss to Oklahoma on Oct. 19, 2013.
Oklahoma wide receiver Lacoltan Bester, a former high school and juco quarterback, had practiced the end-around pass many times this college football season entering Saturday's Big 12 contest at Kansas.
Still the 6-foot-3, 195-pound senior from Scooba, Miss., admits he felt butterflies when coach Bob Stoops called for the trick play on first-and-10 from the KU 49 with the Sooners down 13-8 late in the second quarter.
"Honestly, at first I'm ready for it, then we finally get the check that we are going to really run it, my heart starts to beat a little fast," said Bester, who connected with Sterling Shepard for 49 yards and a score that erased a 13-8 deficit and gave the Sooners the lead for good in a 34-19 victory.
"It's something I've been doing my whole life throwing the ball. I was ready for it when the time came," Bester added.
Shepard also caught a TD pass from former Wichita Carroll QB Blake Bell, who completed 15 of 25 passes for 131 yards, two scores with an interception.
"It felt good to do that," Bester said of his connection with Shepard, a 5-10 sophomore from Oklahoma City. "All I could think about when I threw it ... it was like my high school coach telling me to throw the ball downfield and quit running it."
Stoops, who was pleased his team kept its composure after falling behind 13-0, was pleasantly surprised at the success of the bomb from Bester to Shepard.
"I told him giving him the game ball in there (locker room), he needed to give the quarterback some lessons," Stoops said with a smile. "It was a beautiful pass, 'Shep' running it down. He put some air under it, and Shep got to it. I didn't know Lacoltan threw such a good ball. We're going to have to give him some more chances."
The Sooners, who bounced back from a loss to Texas in improving to 6-1 overall and 3-1 in the Big 12, outgained KU, 415 yards to 201. KU had just 16 yards passing, 185 rushing.
"Kansas played a good, hard-fought game," Stoops said. "I knew all along their defense has been playing well, playing aggressive. They did again today. Offensively, they did a nice job the first half creating some problems for us in the run game. We didn't handle it well. I'm proud of the guys for hanging in there in adverse situations. We played a strong second and third quarter to regain the lead and gain some momentum. It's always good to win on the road."
OU will play host to Texas Tech on Saturday.