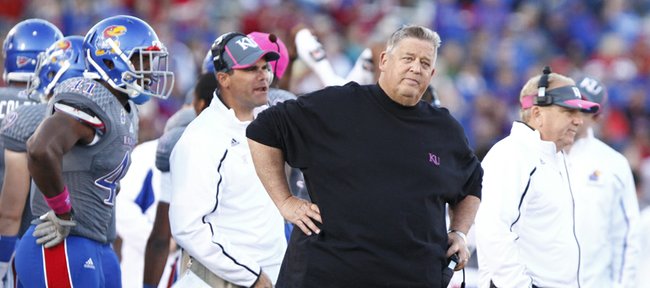 Photo Gallery
KU football v. Oklahoma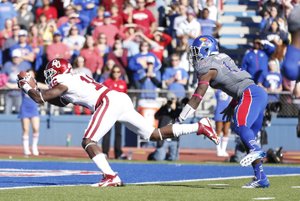 Images from Saturday's game against Oklahoma at Memorial Stadium.
Podcast episode
Kansas coach Charlie Weis talks to reporters following the Jayhawks' 34-19 loss to Oklahoma on Oct. 19, 2013.
The Kansas University football team stormed out of the locker room with all the vigor of bunch of grade-school boys busting through the doors on the last day of school looking forward to a summer of fun in the sun.
How does that happen? How does a school that came out of Saturday with a 34-19 loss to Oklahoma that extended the Big 12 losing streak to 24 games so look forward to playing?
Energetic junior defensive tackle Keon Stowers opened a window to the pre-game locker-room scene.
"It's loud," said Stowers, one of the team's four captains. "We're jacked. We're hyped. I'm not a big rah-rah guy. I talk to the team. I get them hyped, but I'm not a big rah-rah guy. I like to focus in, but the atmosphere is amazing."
How does it get that way?
"Coach Weis," Stowers said of second-year coach Charlie Weis, whose KU record dropped to 3-15. "He does a good job of getting us riled up. I know you can't see it from him, but he gets us pretty riled before the game. Just to see him, to see his energy, his passion for the game. We feed off it."
With each loss, bodies fly off the Weis bandwagon, but to hear Stowers tell it, none of the bodies pull KU football jerseys over shoulder pads every Saturday.
"Everybody's against coach Weis," Stowers said. "We're trying to change that. Everybody's saying he's a bad coach or he's a bad person. It's up to us to change that."
KU's players haven't given up on Weis, for whom they still play hard.
The defense is doing its part, but like any good leader Stowers talked more about what the defense needed to do to get better before addressing the obvious culprit, KU's anemic passing game. Stowers talked about how the defense needs to cut back on its penalties and how everybody needs to bring the first-quarter energy for four quarters.
"I feel like we get complacent as a team," Stowers said. "Up 13-0 on OU, whoever thought that? Coming in at halftime it's 18-13, we're actually in the game, so we're like, 'We're in it. We're in it. We've got to keep going.' You go out, guys are moving around and they're feeling good. Then once something goes wrong, you see those long faces. And it's up to us captains to try to get that off guys' faces and keep going."
Stowers expressed the opinion that football games are won in the third quarter. In the case of KU (2-4 overall, 0-3 in the Big 12), the second quarter has been just as bad. In conference play, KU has won the first quarter, 20-7, lost the second, 41-13, and lost the third, 38-13.
"You could just feel the atmosphere of the whole team going down when the offense gets stopped and the defense gets scored on," Stowers said. "That's the biggest step in the maturation of a team is how you respond after adversity. We have to keep building that. We've built on that, but we just have to keep going up with that."
He's right. KU has improved in that area in that once the dam broke against Texas Tech, there was no repairing it. This one was different.
After falling behind, 10-0 to KU, Texas Tech scored 54 consecutive points. Trailing 13-0 to the Jayhawks, OU scored 25 points in a row. Baby steps.
KU bounced off the canvas, cutting the deficit to six points and then it grew to eight without any time coming off the clock because the extra-point attempt was returned for two points early in the fourth quarter.
The defense played well and so did the running game. The whole world knows why the Kansas losing streak continues to grow, so there was no point in Stowers biting his tongue.
"We ran the ball, but you can't be one-dimensional," Stowers said. "It's easy to load the box and stop a running team. You've got to be able to pass and run, because if you're not accounting for the pass, you just load the box and stop the run. I can draw that defense up."
Up next: Baylor, a squad adept at passing, running, stopping the pass and stopping the run, the best team in the Big 12.