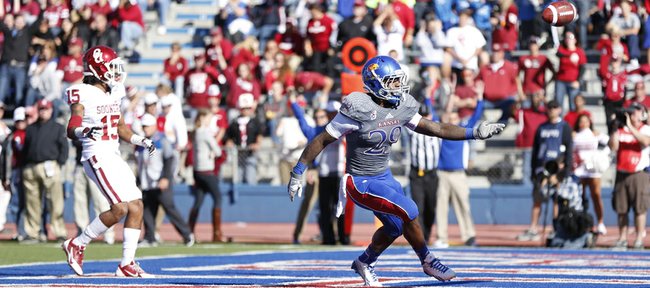 Photo Gallery
KU football v. Oklahoma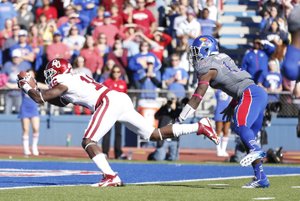 Images from Saturday's game against Oklahoma at Memorial Stadium.
Podcast episode
Kansas coach Charlie Weis talks to reporters following the Jayhawks' 34-19 loss to Oklahoma on Oct. 19, 2013.
Aslam Sterling was a busy man during his second start of the season at right tackle on Saturday. And that's because most of the power running plays that worked beautifully during the early portion of Kansas University's 34-19 loss to No. 18 Oklahoma went right behind the 6-foot-5, 315-pound senior, who started the season at left tackle.
Last season, the Jayhawks (2-4 overall, 0-3 Big 12) became known for their ability to run against just about anyone and often stayed in games because of it. That has not been the case thus far this season, but Saturday's effort — particularly early — sure looked as if someone turned back the clock to 2012.
In the first quarter alone, KU ran for 118 yards on 15 carries. Senior James Sims, who finished the day with his 13th career 100-yard outing (23 carries, 129 yards, 2 touchdowns), accounted for 85 of those by himself. That included a stretch in which he carried the ball on eight of KU's first nine plays and gained 63 yards on the Jayhawks' opening drive alone.
"It felt good," Sims said. "Give credit to the offensive line, they were physical up front. They won the battle at the line of scrimmage. That was our plan the whole week and they went out and did that."
A modest Sterling said there was nothing special about his play or the right side of the line on Saturday. Instead, he said KU's strong rushing performance was a product of quality film work and more heart.
"It's not just the right side in particular," Sterling said. "We watched film throughout the week, we saw other teams be able to run against them and we knew we could do that, too."
Sophomore Darrian Miller also enjoyed success against the Sooners, rushing for 67 yards on nine carries.
Trickery, dickory, doc
The Sooners' second touchdown of the game — a 49-yard pass from wide receiver Lacoltan Bester to Sterling Shepard late in the second quarter — gave OU the lead for good and was the result of a play that caught Kansas off guard.
"That was just a trick play," said KU cornerback JaCorey Shepherd, who lined up to cover Bester but quickly realized something was up when he saw his man run back toward OU quarterback Blake Bell. "We really weren't ready for it. They just got us on that one. I just saw my receiver going back to the backfield and once I transitioned my eyes back to the backfield, I just saw him throwing the ball."
Victorious validation
Oklahoma defensive end Geneo Grissom, a Hutchinson native and former four-star recruit who chose Oklahoma over Kansas, was asked if the victory against the Jayhawks validated his decision.
"Absolutely," said Grissom, who has played sparingly during his first four seasons in Norman, Okla., and even spent time at tight end. "Kansas is a great school, but I felt Oklahoma was the best decision for me."
Grissom finished Saturday's game with four tackles and was credited with a half-tackle for loss.
Injury update
The Jayhawks played Saturday's game without four key regulars, including leading tackler Ben Heeney and leading receiver Tony Pierson. Weis said those two, along with defensive tackle Tedarian Johnson and wide receiver Andrew Turzilli, were all close to playing but could not get over the hump.
"Heeney was trying to go this week," Weis said. "Tony's waiting to be asymptomatic. He went for a test on Thursday and passed with flying colors, but you don't mess around with head (injuries). You just don't do it. Drew moved around better, Tedarian moved around better, but they just weren't ready to go."
Heeney, in street clothes, still participated in the pregame coin toss.
This and that ...
The Jayhawks won Saturday's opening coin toss for the first time this season and chose to defer their choice to the second half. OU elected to receive the game's opening kickoff. ... Linebacker Courtney Arnick made his first career start and finished with six tackles. ... Senior safety Dexter Linton led the Jayhawks with nine tackles. ... As a team, KU recorded nine tackles for loss, including one sack. ... Senior wide receiver Josh Ford's blocked punt in the fourth quarter was the third of his KU career and second this season. ... Temperature at kickoff was 61 degrees, under sunny skies with winds of 13 mph out of the southwest.
More like this story on KUsports.com