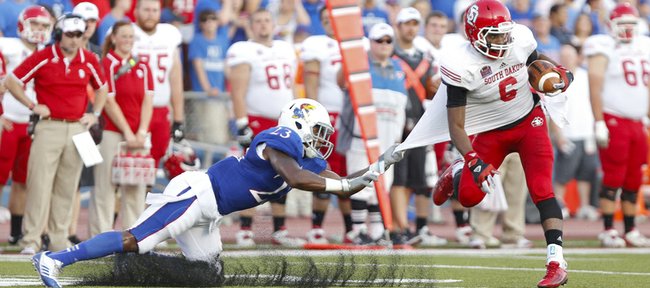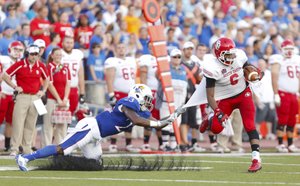 Overshadowed somewhat by the stellar play of Kansas University cornerbacks Dexter McDonald and JaCorey Shepherd, senior safety Dexter Linton quietly has gotten his final season off to a solid start.
Linton, a 5-foot-10, 195-pound free safety from Arlington, Texas, smiles when his play is mentioned and turns serious when asked to explain what changed.
"I take big pride in tackling now," said Linton, who is tied for 24th in the Big 12 with 31 tackles through five games. "This whole offseason, that's all I was thinking about. I used to just dive at feet, and now I really just try to get into guys the best I can."
It shows. Linton, who came into the program 10 pounds lighter in 2009, has added bulk and toned up to become one of the most physical safeties on the Jayhawks' roster.
It was not always that way.
Last season, when he played in 12 games, made two starts and finished with 26 tackles, Linton approached tackling as a clean-up-the-mess prospect. Rather than knocking a guy off his feet, he preferred to jump on and drag him down. In the offseason, assistant defensive-backs coach Scott Vestal explained to Linton that in order to play a significant number of snaps during his senior season, he was going to have to learn to put guys on the ground better. So he did. How? The credit for that goes to former Jayhawk Chris Harris, now a starting defensive back with the Denver Broncos.
"I remember when he was here, he just never missed a tackle," Linton said of Harris, prides himself on bringing guys down. "At the time, I didn't realize how important that was, and now that it's my last year, sadly, I get it."
Linton said he watches Harris and other pros every chance he gets to identify the finer points of tackling. He also turns his focus internally to pick up a few tips that pertain more to his game.
"I needed to improve my tackling to get anywhere," he said. "And I had to change my whole mind-set. I just did a lot of visualizing. That's the main thing."
Asked if he was surprised that, in just one offseason, he was able to transform himself from average DB to sure-thing tackler, Linton, who has 20 solo stops this season, sat up proudly and flashed a grin of satisfaction.
"It's really what I expected," he said. "I came into the season with the mind-set of just putting it all out there. It's my last year, and really I'm just trying to make up for lost time."
Linton and the Jayhawks (2-3 overall, 0-2 Big 12) will play host to No. 18 Oklahoma (5-1, 2-1) at 2:30 p.m. Saturday, with the hope of snapping a 23-game Big 12 losing skid and getting the season back on track. Although the Sooners, fresh off a loss to Texas, bring to Lawrence a power-based offense and shiny national brand, Linton and players like him have the KU defense playing with more confidence than at any time during the past five seasons, which makes even mighty Oklahoma seem like a team with which they can match up.
"It's just the success we've had as a group and we're learning to play together," Linton said. "We have no fear, and at the end of the day we're just playing football, so let's go have fun."
More like this story on KUsports.com