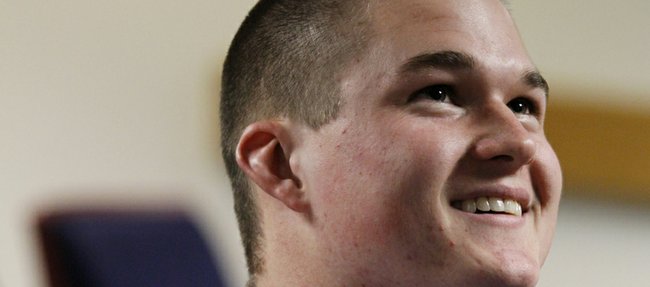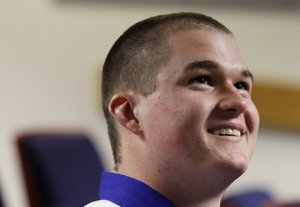 What on earth was punter Cody Mandell thinking when he signed a national letter of intent to play for Alabama? He must not have stopped to consider that punting for a perennial powerhouse is no way to get in the game.
The more you do something under game conditions, the better you get at it. Poor Mandell. He averages just four punts a game for the Crimson Tide, such a small sample it could hurt his chances of earning All-American honors.
Mandell is the only punter ranked in the top five in the nation in yards per kick who doesn't play for a school with a losing record.
Zac Murphy, Miami of Ohio's fourth-down foot, now there's a guy who gets a lot of practice every Saturday. Murphy not only leads the nation with a 47.7-yard average, he is tied for second with an average of 7.3 boots per game. Obviously missing wide receiver Nick Harwell, who was suspended from school and transferred to Kansas University, Miami of Ohio is winless in six games. A new twist on Murphy's Law, as it applies to RedHawks football: Whatever can go wrong, does go wrong, except if you're the punter.
Murphy has tough competition for All-American honors, and it comes from a lefty kicker who plays at a school that has had two first-team All-Americans in the past 30 years, both in 2007. Their names: Anthony Collins and Aqib Talib.
Kansas University's Trevor Pardula, a 6-foot-5, 209-pound junior from San Jose, Calif., who also handles kickoff duties, ranks second in the nation with an average of 47.09 yards a punt.
A closer look at the numbers shows why Pardula is having a better season than Murphy. Pardula's net punting average is 43.59, Murphy's 36.9, an indication that Pardula kicks them much higher, giving the coverage team more time to get in the returner's face. The height of Pardula's punts is more amazing than the distance.
One more stat, not officially tracked anywhere as far as I know but a great indicator, weighs heavily in Pardula's favor and contributes to the net punting disparity.
Pardula drops four punts inside the 20 for every touchback. Murphy's ratio is just 1.6-to-1, a huge disparity.
Idaho's Austin Rehkow and Tom Hornsey of Memphis are tied for third with a 47-yard average. Rehkow's 4-to-1 I-20-to-TB ratio is identical to Pardula's, but his net punt average (39.5) can't compare.
Hornsey's net punting number (45.1) is even better than Pardula's and so is his I-20-to-TB ratio (10-to-1), so at the moment, he leads the tight race.
Mandell's net punting average (40.1) isn't as impressive as Pardula's, even though the athletes on 'Bama's punt team no doubt are superior to those who play for KU, Miami, Memphis and Idaho. Mandell's I-20-to-TB also ranks low at 1.8.
So at this point of the season, the only way to rank the punters who are in the top five in yards-per-punt is: 1. Hornsey, 2. Pardula, 3. Rehkow, 4. Mandell, 5. Murphy.
A punter's value becomes even greater to a team that employs a conservative game plan that KU coach Charlie Weis used Saturday in a 27-17 road loss to TCU. The plan called for an inside running game that would keep the clock moving and minimize turnovers, playing the field position game and banking on the defense to keep the offense within striking range. Pardula punted 10 times for 462 yards.
"Going in, I told him you're going to be the most valuable player on offense because I knew this was how we were going to play the game," Weis said of Pardula, who played a big role in KU's victory against Louisiana Tech.
It's possible that all in the same season Kansas football could extend its Big 12 losing streak to 30 games and celebrate its 14th first-team All-American.
Ray Evans, Otto Schnellbacher, George Mrkonic, Gil Reich, Oliver Spencer, John Hadl, Gale Sayers, Bobby Douglass, John Zook, David Jaynes, Bruce Kallmeyer, Anthony Collins and Aqib Talib just might have to move over to make room for Trevor Pardula.
Sometimes the silver lining can be a football slammed into the clouds by the local left-footed king of hang time.
More like this story on KUsports.com