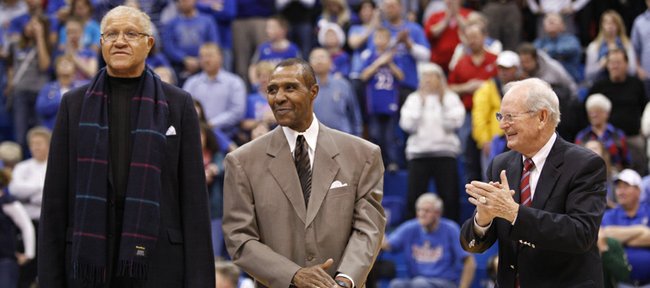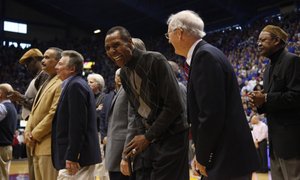 "An Evening With Former KU Coach Ted Owens," featuring the man who ran Kansas University's basketball program from 1964 to '83, is scheduled for 7 p.m., Sunday, Nov. 3 at the Kansas Union Ballroom.
Former KU standout Bud Stallworth, who played for Owens, will introduce the 84-year-old Tulsa native, who following a speech will sign copies of his new book, "At the Hang-up: Seeking Your Purpose, Running the Race, Finishing Strong."
The 270-page book includes 25 life lessons from Owens, plus the coach's thoughts on his life and career with lots of pictures.
The foreword is written by current KU coach Bill Self.
"Coach still lives life. I've been on golf trips with him, have been his roommate and have had the opportunity to get to know him very well," Self writes. "He is so competitive. He is in great shape and we have walked probably 15 different courses together, from St. Andrews to Pebble Beach. He hates to lose and usually rigs the bets on the first tee to ensure he doesn't. ... I'm proud of you coach for becoming an author. But on the next golf trip, I'm getting strokes and please don't feel you have to get up at 6 a.m., every morning to do your exercise. I could use the extra shut eye!" Self adds.
Self has much more to say about Owens in the foreword, including revealing the fact he phoned Owens, Larry Brown and Roy Williams, his three living predecessors, on the day he was introduced as KU hoops coach.
"I can only hope my impact in the world can rival Ted Owens'. I am proud to be his friend," Self said.
Aldrich update: Former KU center Cole Aldrich, who is fighting to continue his NBA career after playing sparingly his first three seasons for Oklahoma City, Houston and Sacramento, scored two points and grabbed four rebounds while logging 16 minutes in the New York Knicks' 30-point exhibition loss to Boston on Saturday.
He's going to be given every opportunity to earn a position on the team as backup to Tyson Chandler.
"I want him to be a little tougher," Knicks coach Mike Woodson told the New York Daily News. He was upset with Aldrich during his zero-point, three-rebound performance (in 5:26) on Friday versus Toronto.
"When you are trying to make someone's ballclub, bigs (have) got to do dirty work. They've got to be nasty and take hard fouls and rebound and do all the dirty work that helps you win games. I'm not seeing that a lot right now in him. He's got to pick it up some," Woodson added.
Aldrich, who turns 25 on Halloween, responded to the Daily News: "What he means by that is if you've got a guy coming to the rim, go up and make a play at the ball. Try to block a shot, try to do the little things that will anchor our defense. ... There's an opportunity (to make the team). The biggest thing is using training camp to continue to get better, get used to the system, get used to the guys."
Tyshawn Taylor hobbling: Former KU guard Tyshawn Taylor of the Brooklyn Nets hurt his right ankle in the first half of Saturday's loss to Detroit. He's upset that the injury comes with Deron Williams missing exhibition games with a sprained ankle of his own.
"It's an opportunity," second-year pro Taylor told ESPN New York. "Deron's definitely going to be sitting out two games and I might be sitting next to him now."
Pelican progressing: Former KU center Jeff Withey, a rookie with the New Orleans Pelicans, scored six points off 3-of-4 shooting with six rebounds while playing 10 minutes in Sunday's win over Atlanta. He's battling big men Jason Smith and Greg Stiemsma for minutes.
"We're trying to develop and get on a meal plan, so that way I can gain some weight," the 7-foot, 222-pound Withey said recently to NBA.com. "I know during the season you're going to be playing so much, you need to have that weight so your body doesn't break down. I want to be in great shape. Even if I'm not as heavy as I want to be, that way I can outrun people, out-quick them. I know I'm not going to be the strongest guy on the court during my rookie year, so I want to be able to beat guys down the floor."
He moved to New Orleans in early September and found a place in the Warehouse District, the website said.
"It's a nice area," Withey said. "I already know my way around. … So far I like it a lot and I'm really getting to live the New Orleans lifestyle."
More like this story on KUsports.com